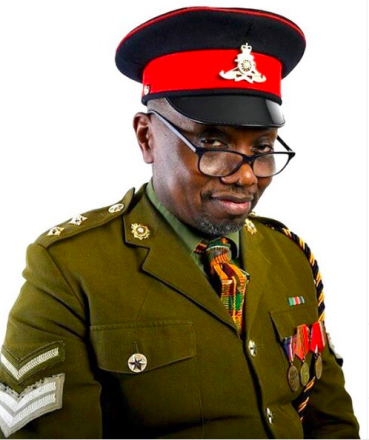 Benjamin Bankole Bello, the comedian behind the comic character President Obonjo, is to film his own chat show.
Bello has claimed that a pilot being made by BBC Studios for E4 and starring Samson Kayo called The Colonel Banjoko Show has copied his character.
BBC Studios, however, has issued a statement saying that this is not the case. "Colonel Banjoko is an original character, created by BBC Studios for Samson Kayo and we are delighted he is taking on the role. It was inspired by a general in a recent coup who asked everyone to remain calm on the TV and the BBC Studios Comedy team approached Samson with the idea. Viewers will get the opportunity to see it for themselves if the pilot is taken to series."
Bello has just returned from the Edinburgh Fringe where he has been drumming up support for his case with the hashtag #justiceforobonjo. Obonjo's show, to be filmed in London next Sunday, is his latest move in his campaign and will be released online.
Speaking to John Fleming for his blog Prsident Obonjo explained that he comes from the Lafta Republic: "I didn't get thrown out!… Just over ten years ago. I came on a state visit to Britain to meet your Queen and discovered comedy. My people in Africa found out I was no longer on a state visit, there was a coup détat and I have been here ever since – President Obonjo has been performing comedy for ten years."
Journalist Kate Copstick, who was also interviewed by Fleming for his blog and is producing the show, revealed more about the planned show which will be available via the internet: "The conceit is that the President is not a stupid man and he realises, as I think many of us have, that Britain is falling apart, from the Mother of Parliaments downwards. Never has the time been better for a coup – a power-grab – and President Obonjo has got a bit of previous in this area."
Guests on the Obonjo show will represent "large special interest groups within the UK." They have not been named yet. When they are BTJ will reveal them.