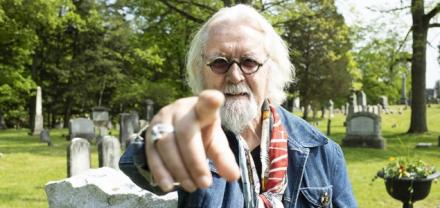 Billy Connolly's Great American Trail is an epic three-part travelogue that sees the comic icon going far off the beaten track into the places you've heard of but have rarely seen, as he follows the migratory trail of the Scots through America. 
Starting in New York and finishing in the heart of America, Nashville, Tennessee, this series features music, football, gangsters, whales, real life moonshiners and not one but two, mad, bad and terrible presidents who both had Scottish parents. All seen through the eyes of our nation's favourite comedian. 
Billy Connolly's Great American Trail, Thursdays on ITV1 from Sept 5 at 9pm. 
Episode 1
Billy embarks on his great American trail as he opens the New York tartan day parade to a 30,000 strong crowd.
He heads to Plymouth, Massachusetts where the pilgrims first landed on American soil, followed by a meeting with the Native American tribe who almost had their people and language wiped out, until it was revived in a pre-school class of children.
Then to Boston, and home to possibly the naughtiest group of nuns on the planet. 
From there Billy heads to Gloucester, the oldest sea port in America, home to blue whales, the most bizarre fisherman's tradition and the scene of the Perfect Storm.
After which he heads to the graveside of the most famous man you never knew was a Scot - Uncle Sam! before wrapping things up at the haunting Ellis Island, through which millions of immigrants passed, although some never made it past its hospital's walls.