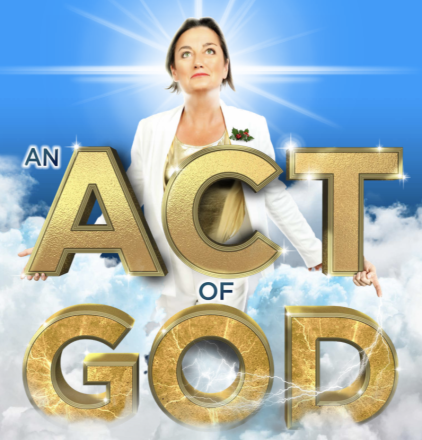 Comedian Zoe Lyons is to star as God in a play, An Act of God, written by David Javerbaum.
After many millennia, and in just 90 minutes, God (award-winning comedian Zoe Lyons as seen on 'Mock The Week' and 'Celebrity Masterchef') assisted by her devoted angels Gabriel (Tom Bowen, Johnny Castle in 'Dirty Dancing the Musical') and Michael (Matt Tedford, aka 'Margaret Thatcher Queen of Soho') will answer some of the deepest questions that have plagued mankind since creation.
In this alternative Christmas message, An Act of God sees a dissatisfied deity, weary of the original Ten Commandments, delivering a new version: a fresh set of rules for the modern world. This sinfully funny comedy delivers a new meaning to divine intervention as The "One" gives the first and last word on everything mankind has wrought on the planet.
An Act of God, written by former 'The Daily Show with Jon Stewart' writer David Javerbaum, was twice a smash hit on Broadway (starring Jim Parsons, Sheldon Cooper in the TV sitcom 'The Big Bang Theory', and Sean Hayes, Jack in 'Will and Grace'). For this European premiere, Javerbaum has rewritten the play to feature bespoke material for Zoe Lyons and a British audience. He also continues to run the controversial Twitter account @TheTweetOfGod, through which God shares his thoughts on world events with over six million followers.
Directed by Benji Sperring ('Toxic Avenger the Musical', 'Night of the LIving Dead'), An Act of God receives its European premiere in a 7-week run at the Vaults complex under Waterloo station from 27 November to 12 January.
Zoe Lyons took her first steps down the comedy path in 2003 after training as an actress at the Poor School in London. She went on to win the Funny Women Competition in 2004 and her debut Edinburgh show was nominated for the if.comedy newcomer award. In 2008 she won the Dave, Funniest Joke of The Fringe Award. Her stage acting creditds include 'Outings' (Edinburgh Festival), 'Eclipsed' (Riverside Studios), 'Hedda Gabler', 'Aristocrats' 'Rafts and Dreams' 'King John' 'Breeze Block Park'. Zoe has appeared in many TV shows including 'Mock the Week' and 'Michael McIntyre's Roadshow'. Zoe is often to be found on the radio and has appeared on many shows including 'Just A Minute' 'The Now Show' and 'The News Quiz' all on BBC Radio 4.
An Act of God Listings Info
27 November - 12 January
The Vaults Theatre, Smiths entrance Launcelot Street
Londion SE1 7AD
Box office: 0844 815 7141
Tuesday to Saturday 8pm Saturday and Sunday matinee 4pm (Christmas schedule varies)
Tickets: Heavenly Seats: £35 General Admission: £25 Early Bird: £20
age recommendation 14+ www.actofgodlondon.com