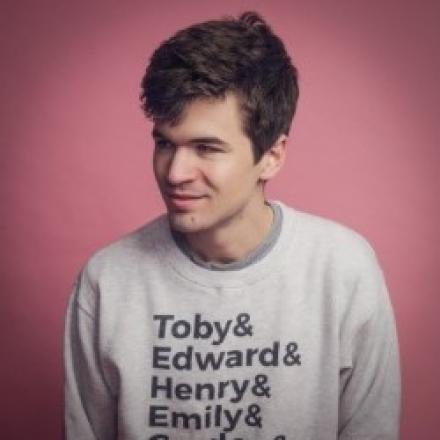 One of the unexpected themes of the Edinburgh Fringe this year has been new parenthood. Josie Long did a whole show about it, it was a striking centrepiece of Jessica Fostekew's Dave's Edinburgh Comedy Award-nominated show and it forms the crust on Ivo Graham's tasty pie of a show The Game of Life, which also bagged an Edinburgh Comedy Award nomination. This year's Best Show prize was won by Jordan Brookes. Just as white and male as Graham but maybe more artistically ambitious.
Graham has been a contender for a few years now and this is his sharpest show yet, maybe because he has a weighty subject to get his teeth into (talking of teeth there's an impressive dentistry routine along the way). Graham never misses an opportunity to slip in a self-deprecating line. As ever there is a pre-emptive strike about his background. He is an Old Etonian – one of the nice ones – and somehow skilfully avoids putting the boot into fellow old boy Boris Johnson with a few well-chosen apercus about the privilege of attending Slough Comprehensive. If there was an award for having your cake and eating it Graham would sweep the board.
Some of his family members might have an issue with his child being born out of wedlock but Graham is not the kind of person that consciously seeks controversy. Instead he is more than happy to send himself up as the world's least convincing rapper. He talks about how he had to ride the beat on an ITV2 game show but explains that he only did it to pay for a better class of new pram. 
However good he is at concealing it the boyish stand-up can't escape the fact that he comes from privilege. The is a show with references to gilets, Glyndebourne and a game of boules with Boris Johnson's brother. He might suggest that the boules smackdown was a coincidence, but how many comedians from council estates in Cumbria accidentally end up at events where the future PM's brother is in attendance? As much as he might want to play it down with a rich vein of knowing self-mockery (see also pictured shirt) and embarrassing dental stories, Graham occupies a rarefied world. His enviable talent is the ability to parlay that into some very funny stand-up comedy. 
Ivo Graham is at Pleasance until August 25. Tickets here.

Read more Edinburgh Fringe reviews here.
****