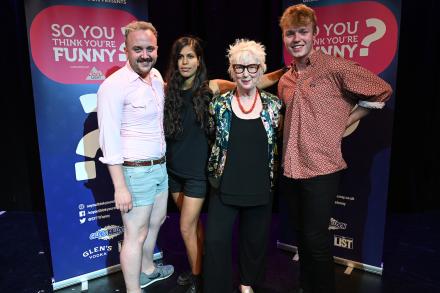 The first act of the second half was another Irishman. Denis Len certainly won over the crowd by complaining about the price of everything in Edinburgh. No sooner had he checked into his hotel, he explained, than he flew back to Ireland to have a meal and save money. The bulk of his set was about life in his small village which was both niche and instantly relatable. The place where he came from had got to 1975, looked at the future and decided to stay there. A yarn about staying in a spooky house with his girlfriend rounded his brief set off nicely and he was unlucky not to make the top three podium.
Kate Bancroft from Baltimore was the oddball of the night, a quirky low-energy performer who apologised for being American, talked about her anxiety and loneliness and found plenty of humour there. She had not done many 'normal' jokes when she said she would close with some haikus. She then proceeded to recite countless brief poems without a flicker of emotion. It might not have worked in a stand-up sense, but it was strangely capitivating even when the lines were not always funny. Imagine Demetri Martin without punchlines. Bancroft didn't place, but was one of my favourites on the night.
Finlay Christie immediately brought bags of energy to the stage. He has only just turned twenty and is still a student and his best routine was about how he had applied to do the same course at Oxford as Malala and was resentful that she had got in and he didn't. It could have come across as nasty, but there was something sweet about Christie that meant it was comical and never bitter. He also had an original routine about how phrases with the word "boy" in them sounded much gentler than phrases with the word "man" in them, such as "man boobs". He seemed pretty new to stand-up but is accessible yet different enough to make his mark. The judges (including yours truly) crowned him as winner.
Earlier in the night Charlie George made no reference to her footballing namesake and final act Kate McGann, from Brighton, made no reference to her almost namesake Kate McCann. Instead this was an easy going set pretty much summing up what life is like for a frisky thirtysomething woman – if you are the kind of woman who has to dry your fanny (her word) in the changing room hand dryer. Her stand-out routine was about the joys of being single and being able to spread out in bed. It was the kind of stuff that could make her a mainstream star if the writing was a bit tighter and more original. At over six foot in her heels she was certainly memorable even if her gag about saying that friends on a night out can "arrange to meet at Kate" is very similar to an old Stephen Merchant joke. 
Pictured l - r: Shane Daniel Byrne, Charlie George, guest judge Jenny Eclair, Finlay Christie (picture by Steve Ullathorne)
Pages