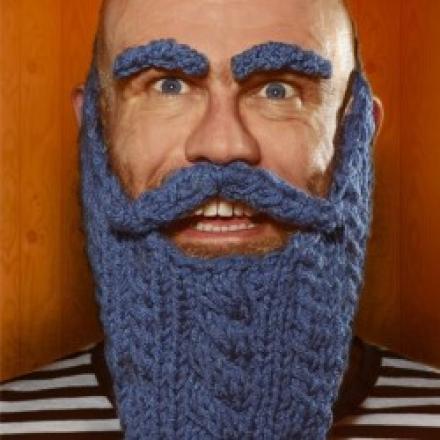 Swedish comedian Olaf Falafel has returned to the Fringe this year via outer space. At least I think that's why he emerges from a D-I-Y pod onstage to the theme from Kubrick's 2001. Or maybe he is just having a laugh. Or should that be having an Olaf? 
This master of the idiot one liner joke can always be relied upon to tickle your funny bones. His latest show is packed with verbal gags, visual gags, prop-based gags, anything really that will deliver a harmless, largely smut-free giggle.
Some of the winning elements of his latest show revisit his last show, but with a 2019 twist. In 2018 he was able to predict people's personalities via their favourite biscuit. This time he does it via a particular type of food. Once again he gets audience members up onstage to help out during some of his skits, but it's all in the name of comic insanity, harmless fun and gratuitous sound effects. There is no awkwardness.
It does feel at times as if he is channeling Harry Hill – it's not just the childlike silliness of some quips, it's also the rhythms of the delivery – but that's no bad thing. He's definitely a lot more than a Harry Hill tribute act, Falafel also has a winning dryness to his absurdist humour and is maybe less vaudevillian.
If you like shows where a plastic toy duck on a hat represents a particular insult and you have to fish the duck off with a rod of destiny then this is the show for you. If you like puppets pretending to be famous musicians – shades of Vic and Bob here – then this is the show for you. And if you are wondering what MC Hammer's day job might be this is most definitely the show for you. Spaced out genius. 
Olaf Falafel Presents Knitting With Maracas, Laughing Horse @ The Pear Tree until Augst 25. Details here.
Olaf Wins Funniest Joke of the Fringe.
Read more Edinburgh Fringe reviews here.
****