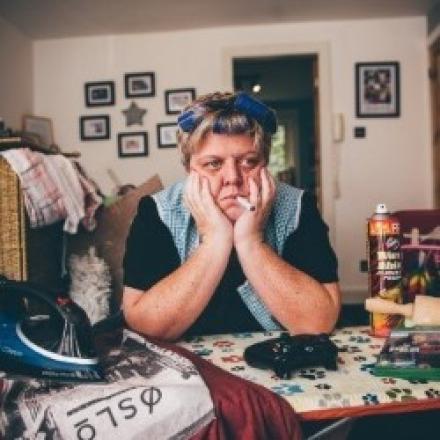 Susie McCabe is the kind of instinctively engaging comedian who immediately gets the audience onside. She certainly has an instant, natural, chatty connection with the crowd in her new show Domestic Disaster. It maybe helps at the Fringe that she is Scottish but this is no home match. She makes it clear from the outset that she is not from snooty avocado-and-coffee Edinburgh but the tough lager-drinking East End of Glasgow. And don't ask for a half if you are ever there, it's pints only.
Domestic Disaster kicks off with McCabe explaining that after 16 years wth her partner, two of them married she moved back in with her parents. She has a nice spin on the way that even at 39 the old parent-child patterns return. Mum is protective and has sleepless nights when Susie stays out, dad is delighted – as he jokes, Susie's return has taken the heat off him.
The fact that Susie is a lesbian is both incidental and yet also adds another comedic dimension to the story. McCabe talks entertainingly about how the dating world has changed since her first go on the merry go round. Her mum wants her to take a rape alarm when she goes out but McCabe has a brutally sharp response to this.
McCabe later explains that she has now moved in with a new partner. This prompts more well-observed humour. One excellent section is about arriving home and having to sneak around like a cat burglar because your other half is a light sleeper. Punchline is piled on punchline as she charts her progress from front door to bed. It's not groundbreaking stand-up but who cares when it is this funny?
As the show moves into the home stretch McCabe draws together some themes that have been touched on earlier. Her family might have been old-fashioned in some ways but she was never brought up as a traditional girly girl. Like her older brother, she was taught to change plugs and tyres. Her parents gave her the tools to deal with the world, not just gender specific tools. 
If most of the set feels like a top class stand-up set that would work in any club anywhere in the world McCabe closes with more serious thoughts on the post-#metoo world. Feminism means equality and there are still changes that need to be made. She has some forthright suggestions of what those changes would be if she was in power, some pithy, some serious. McCabe is certainly doing her bit to make the world better place. An hour in her company will definitely make your world a happier place.
Susie McCabe: Domestic Disaster, Assembly George Square until August 25. Tickets here. See Susie McCabe's UK tour dates here.
Read more Edinburgh Fringe reviews here.
****