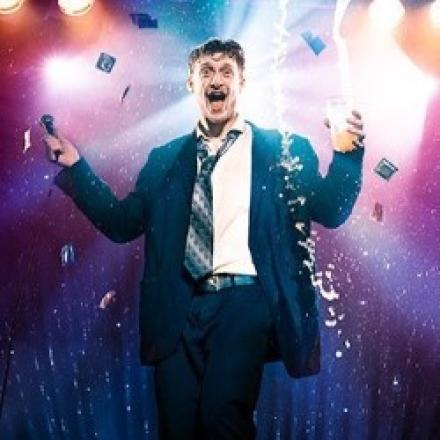 There's an air of rock and roll excess and excitement in the room.
When Jack Tucker lands a joke we hear a drumroll or a gunshot. Every riff is followed by a blast of guitar solo. 
Callbacks are signalled by a phone ringing, every mention of Scotland is met with a burst of bagpipes and when he gets deep, clouds of smoke roll across the floor.
This is a technically mind boggling show which uses a battery of lighting and sound effects to dramatise the inner monologue of a hack comic.
Jack Tucker, the creation of Zach Zucker of mime wunderkinds Zach and Viggo, is a deluded, washed up, terrible comic – who is so exhausted by life on the road he can hardly remember which town he is in. 
Tucker has crib notes on his hand, full of hastily compiled local references. He mispronounces the names of every person and place. He spills his beer, drops his microphone, trips over his props and leers inappropriately over the audience. 
He is toxic masculinity made flesh. And things only get worse when he gets all American, draping himself in flags and cowboy hats in an embarrassing show of national pride.
Because this is Edinburgh and people expect it Tucker throws in a bit of emotion – but his home life is clearly a tragic mess. He can barely remember the name, age or sex of his children and everyone who knows him clearly loathes him.
What's amazing about this show is that there's hardly any comedy material in it at all. It's the mannerisms, the posturing, the swagger and the emotional manipulation of stand up without any of the actual jokes. 
Tucker is an unmitigated disaster as a comic – but as a clown he is superb.
The bangs, flashes, drumrolls, gunshots and pratfalls make this a high octane, fast rolling, laugh-filled performance in which Tucker fails, fails bigger, fails better and fails again.
The character is not remotely believable – but he's all the better for that. You feel like you're watching the birth of something big.
Jack Tucker, Jack Tucker: Comedy Stand-Up Hour, Underbelly until August 25. Tickets here.
Read more Edinburgh Fringe reviews here.
****