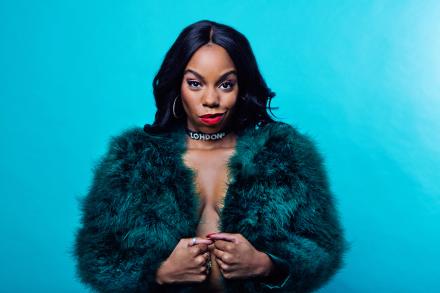 UK Comedian London Hughes has joined the Spotify Original family with an exclusive podcast deal. On September 9th, her brand new dating and relationship podcast series, 'London, Actually' will be available to listen to for the first time, exclusively on Spotify.
Currently performing 'To Catch A D*ck' at the Edinburgh Fringe and winner of the prestigious Funny Women Award, making people laugh comes as second nature to London. Dating and relationships on the other hand, seem impossible. In each 45 minute episode, London explores the alien landscape of dating in a podcast packed with comedic delights including sketches, interviews and more.
Every episode champions listener participation with a hilarious and at times cringing telephone blind date. It's a dating show for the podcast era, as hopeful romantics searching for 'the one' are set up and speak for the first time on the podcast. With her wealth of experience on dating, London listens in on the call to narrate and critique the conversations with hilarious results. Listeners can finally fulfil their desire to eavesdrop on that blatant first date at the next-door table, guilt free! 
Split into four parts, each episode includes sketches based on London's hugely popular 'No Filter' online series which focuses on her disastrous dating history. Interviews range from top comedians to celeb mates such as Phil Wang, Dane Baptiste and Francis Boulle and London even gets relationship advice from her mother… to say they have different opinions on relationships would be an understatement, it's a battle of tradition vs. Tinder.
Produced by Superstar Hughesy Ltd, the podcast packs London's trademark, punchy delivery. This fast paced podcast is the perfect commute companion and in London's own words "It's not 'Love, Actually', it's 'London, Actually'".
'London, Actually' will be available to listen to exclusively on Spotify from 9th September