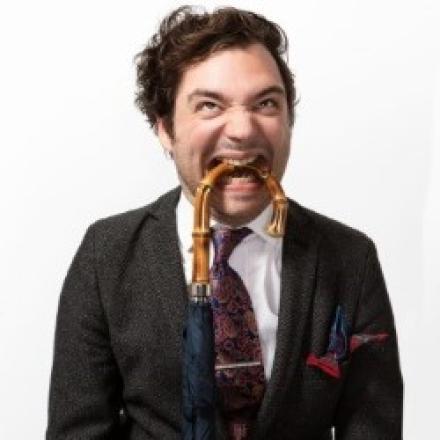 George Fouracres has previously appeared at the Edinburgh Fringe as one third of acclaimed sketch trio Daphne, so as he says at the outset of Gentlemon (sic) he is new to full-length solo stand-up shows. You wouldn't be able to tell though as this is as accomplished a debut as you are likely to see in Edinburgh this year.
It is not really trad stand-up in the McIntyre sense though. Instead Fouracres essentially tells his story of how he went from being a bright working class lad in the Black Country to studying in one of those universities "with turrets" and moving up through the classes. Plenty of comedians have talked about social mobility before, including titans Micky Flanagan and Jason Manford, but Fouracres does it with a distinctive brand of charm and cheek.
First of all the audience gets a brief history of the West Midlands and its important place in the industrial revolution. We also learn about the Black Country dialect - it's not an accent, it's a dialect. The title of the show comes from the local pronounciation of the word "gentleman". His grandfather was that very gentlemon, who always dressed smartly even though he was a bricklayer. Young George loved grandad but also wanted to kill him as they lived in the same house and he woke him every morning when he went to sort out his pigeons. Then again, if his grandad didn't wake him the flatulent Staffie in his bedroom did, so I know which I'd prefer.
This is a love letter to his Black Country childhood that trades a little on warm-hearted nostalgia. His name sounds olde worlde and he even resembles an old music hall perfomer in his braces and tight tweedy suit. He has an odd, ageless look too. At times he could be either 24 or 44. Fouracres recalls shops in the high street and being mystified by what went on in the long-gone dry cleaners Sketchleys. He draws a neat parallel between the secrets behind the counter and the unknown posh world he found himself entering after his A levels.
This is not just storytelling though. There are also a few quick characters and, best of all, a Dad's Army skit in which he plays the entire cast. There is a contextual reason for this scene but it gets the biggest laugh of the show mainly because the impressions of Mainwaring and co are so good. You could almost imagine Fouracres putting on an entire one hour, one person Dad's Army show. He certainly has the energy for it.
Towards the end – as is becoming obligatory for comedies on the Fringe – there is a serious bit about how fences are now sadly being put up, around the country as well as in terms of social mobility. But we are soon back to comedy and a barnstorming finish taking us to the momentous day when Fouracres got his teenage exam results. It is no spoiler to say that he did well – how else did he get into that turret place? –  and he very nearly gets straight As for this highly enjoyable show too.
George Fouracres, Gentlemon, Pleasance Courtyard, Until August 26. Tickets and info here.
Read more Edinburgh Fringe reviews here.
****