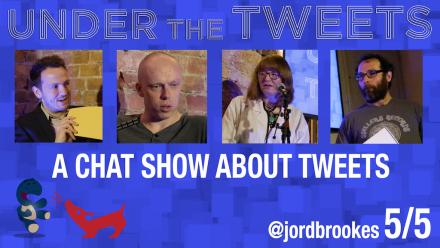 Under the Tweets, the new web mini-series, is to release two new episodes to go alongside the episodes featuring Josh Widdicombe, Annie McGrath and Sunil Patel.
The chat show, hosted by Stuart Laws, looks to get under the skin of some of the country's most prominent Tweeters, and under the hood of their most viral tweets. Henry Widdicombe looks at the stats behind each tweet, whilst Kath Hughes, AKA Doc Viral, offers sage advice on how the tweet could have been improved.
The new episodes, featuring Jordan Brookes & Rose Johnson, will be available on Youtube from 10.30am on Tuesday, July 30 at these links
here
and
here
.
The idea for the show came about whilst Laws and Widdicombe were filming Stand Up at BBC Wales last September, when one of them joked that their tweets would one day be pored over in the same way classic literature is. "The joke kind of got out of hand" said Widdicombe, "because we were acting as creators, producers, and commissioners it was a very smooth process getting it filmed at the Machynlleth Comedy Festival". Laws added "as someone who can't stop going viral on Twitter I've been desperate to watch an interesting, funny chat show about tweets for years so, as a fan, I'm glad that the show now exists".
With a stand-out performance as Doc Viral from Kath Hughes of Gein's Family Giftshop, the pair have also released a range of Doc Viral merchandise to accompany the launch of the new series. Laws and Widdicombe have already re-commissioned themselves and plan to record series 2 at next year's Machynlleth Comedy Festival.