By Bruce Dessau on
17/7/2019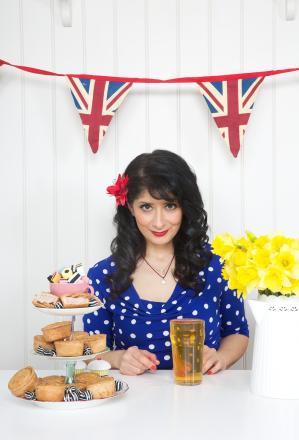 Comedians Shappi Khorsandi, Rosie Jones and Ken Cheng are among the "difficult diners" putting teenage staff to the test in a new CBBC series Step Up To The Plate.
Hosts Fred Sirieix and Allegra McEvedy will put teams of 10 to 14 year-olds through their paces as they set out to uncover a maître d' and head chef who have the potential to be future stars of the restaurant industry.
The contestants are tasked with everything from dealing with 'difficult diners' to feeding a whole restaurant full of hungry customers, including celebrity guests AJ from Strictly, former EastEnders star Jacqueline Jossa, Blue Peter's Lindsey Russell, CBBC's Sam and Mark, Girls Aloud star Kimberley Walsh and You Tuber Olivia Grace.
Fred says: "I've always wanted to showcase the hospitality industry in all its glory. This show is a unique opportunity to do that and to teach kids the art of service and the art of running a restaurant. It's about inspiring and educating the next generation of professionals into the world of catering and hospitality because it is a wonderful industry and there are great career prospects there."
Allegra says: "It's really important that we keep attracting new talent. You want to get them in young, get them excited, get them realising that being a chef and being front of house are viable, exciting, professional careers - not something to be fallen into, but something to be chosen."
Throughout the heats, viewers follow the progress of the teams over two episodes. On an initial practice day, the restaurant crew come up with themes to dress the restaurant and the kitchen crew set out to cook a complementary menu. The themes vary from a classic 'diner' themed restaurant to tropical, magical, medieval and there is even a zombie theme.
The teams learn new skills from their mentors but then have to cope with 'difficult diners' - including comedians Shappi Khorsandi, Johnny Cochrane and Inel Tomlinson, who pose as purposefully demanding customers trying to trip them up with unexpected requests and tricky questions.
The 'difficult diners' who put the contestants on the spot are: Johnny Cochrane and Inel Tomlinson (The Johnny and Inel Show), Ken Cheng, Rosie Jones, Danielle Vitalis, Shappi Khorsandi and Stacy Liu (The Dumping Ground).
Celebrity guests and restaurant critics include AJ Pritchard, Dr Xand Van Tulleken, Millie Innes (Millie Inbetween), vlogger Nikki Lilly, Liam Charles, Grace Dent, Angellica Bell, Tom Parker Bowles, Jacqueline Jossa, Lindsey from Blue Peter, CBBC's Sam and Mark, Christian Stevenson, aka DJ BBQ, Kimberley Walsh, Olivia Grace, Perri Keily, Jordan Banjo and a whole host of stars from The Dumping Ground.