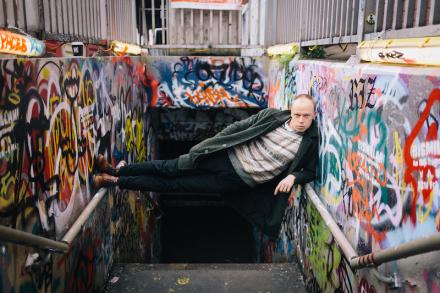 Subscription video-on-demand platform Nextup has added British comedian Jordan Brookes' latest show Body of Work to their comedy catalogue.
Brookes is a critically acclaimed comedian, writer and actor. Fiercely original, Brookes's style combines observational comedy with a theatrical and absurdist edge.
Body of Work is his third solo hour of high octane stand-up, lacing absurdism with anecdotes of his experience of living with a rare form of OCD. Sometimes referred to as 'Pure-O', dark, obsessive thoughts follow those with this variant of the condition around like an omnipresent raincloud. 
In Body of Work Brookes tells a story about his grandmother touching his knee as an 11 year old boy. He describes the condition as making him feel "very doubtful, because nobody knows really who they are. Maybe I am this thing: maybe I want to sleep with my nan and touch dogs inappropriately, or whatever. It completely fucks you. You live in a constant state of uncertainty."
Body of Work brings these thoughts and experiences to life, allowing the audience unfettered access to the internal workings of Brookes's mind. Jordan says 'I'm so excited to have had Body Of Work captured forever. I first wrote and performed it in 2017, but I'd been working up to it from the moment I got into stand-up. I'd always wanted to do a show that on the surface is about one thing but never quite gets going for reasons that slowly become apparent, and so for me Body Of Work is the distillation of ideas and themes I'd been dancing around since I started performing. It took a lot to explore what was (and still is) a difficult part of my life, but I am so proud of the result. I hope you enjoy watching as much as I loved putting it together.'
The show earned Brookes a nomination for Best Show at the Edinburgh Comedy Awards in 2017. It started out at a Free Festival venue before transferring to the Pleasance Courtyard to become the word-of-mouth success story of the festival that year. The show went on to run for 14 nights at the Soho Theatre.
Dan Berg, co-founder says "This is genuinely one of my favourite comedy shows and Jordan is a phenomenal talent - to be featuring Body of Work as one of NextUp's original productions is a real honour, and one which I'm sure our members will absolutely delight in."
Available now. More here.