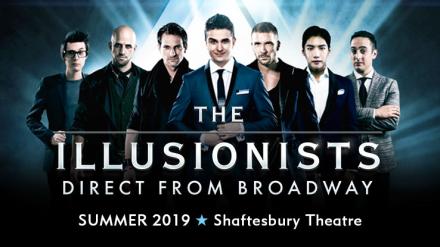 Update: Further to our comments about female representation in the show, the producers have responded. See bottom of review.
Timing is everything in comedy and I guess it is pretty important for the scheduling of magic shows too. This new "Direct From Broadway" spectacular is pitching camp for the summer just in time for the tourists and the school children on holiday. In fact the opening act, Paul Dabek, aka The Trickster, comes across as the ultimate birthday party entertainer, warming the audience up with a few bits of light-fingered manipulation onstage and some cheesy quickfire patter straight out of the 1970s playbook.
It was an ominous start but things soon get better. With one major caveat. Couldn't they have found at least one female magician? The absence was particularly noticeable because the only women that did appear onstage were the sidekicks and assistants, strutting and pouting their way through a few big set-pieces like some Bob Fosse extras. For the sake of equality there were some male supporting players too, but a woman upfront would go at least some way towards balance (see response below).
As for the magic though, this show is hard to fault. With seven acts doing their bits nobody outstays their welcome. There is a good mix of showstopping and subtle. Some put a modern spin on old tricks, but most just do old tricks. The emphasis here is on uncomplicated variety rather than shattering artistic boundaries. Dabek himself returns later for some more trad trickery and some delightfully enjoyable shadow puppetry. 
Each of the acts has a silly superhero nickname. James More, alias The Showman, doesn't mess around, somehow splitting his body in half as soon as he walks on as if it's the kind of thing he does all the time. Enzo Weyne – The Unforgettable – is an impossibly cool continental who does a disappearing trick, then does it again with a twist just for the clever clogs who think they know how it is done. 
The quickfire pace changes when Korea's Yu Ho-Jin comes on. The Manipulator is an elegant master of card trickery. The way he produces card after card after card is is balletic in its grace. Are they on strings? Is he using magnets? It's probably all down to skills honed over many years and it quietly takes your breath away.
By complete contrast The Mentalist Chris Cox's schtick is to be the jittery nerd who can read everyone's thoughts. And when I say everyone I mean everyone. Well, almost everyone. He speedily works his way through the crowd picking out dates of birth, favourite holiday destinations. I've seen it before from the likes of Derren Brown and Marc Salem but I stll don't know how it's done and it is always amazing.
Adam "The Futurist" Trent goes for a more modern approach than most of the acts with some point-of-view headgear and some neat rug-pulling technological trickery. But maybe the highlight for many will be The Daredevil Jonathan Goodwin, who has been around for a long time but recently made a splash on Britain's Got Talent. Goodwin has two how did he did that? moments. One involving a creepy creature which is literally gobsmacking and one involving him being buried alive. You kind of know he isn't going to die in front of your eyes but that doesn't stop his locked-box antics from being captivating.
This is a pretty clean-cut show and I doubt if foulmouthed magician Jerry Sadowitz wold pass the audition. But if you've got young kids itching for a night out over the summer this might well shut them up for a couple of hours. 
Until September 1. Buy tickets here.
Following publication of this review the producers have been in touch to say the following: 
"Magic has historically been a profession that has been dominated by male acts. No other company is doing more to develop and encourage female magicians than The Works Entertainment. In the past year, female magicians have headlined productions of The Illusionists across the globe including Broadway, Sydney, Shanghai and elsewhere and we are actively training and developing up-and-coming female illusionists in our resident showroom in Nevada.
The London run of The Illusionists does not feature any of our female magicians as they are busy headlining other productions of the show all over the world, however we very much hope that the next time we come back to London we will be able to include multiple women in the line-up."
[The Producers of The Illusionists]