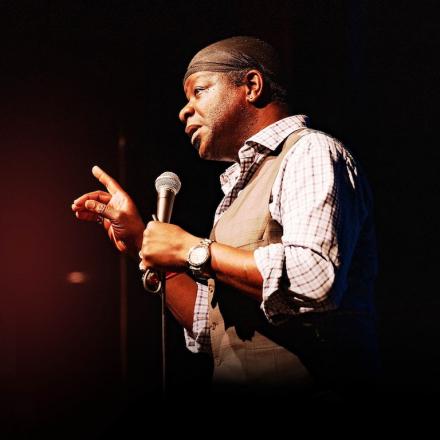 Stephen K Amos has announced a new national tour entiedl Everyman and starting in November following an Edinburgh Fringe run.
Amos is on a mission to bring about world peace. Or to at least bring about an evening of peace, one venue at a time. In an age when arguments are started over everything from politics to bendy straws, Stephen is rising above the anger to remind us of what we have in common. Bringing achingly funny anecdotes, hilarious takes on the everyday and his infectious charm, Stephen K Amos will warm your cold, stiffened hearts. Join together with your fellow man and experience the universal language of laughter!
As seen on Pointless Celebrities, QI, The People's History of LGBT (BBC), UKTV's Celebrity Storage Hunters and Alan Davies: As Yet Untitled, and BBC1's Live At The Apollo and Have I Got News For You, as well as What Does The K Stand For? on BBC Radio 4. The Stephen K Amos Talk Show, in which Stephen invites popular stand-ups to chinwag about this, that and the other each year at the Edinburgh Festival, was recorded in 2018 (third series) and is now available on Amazon's Audible.
Besides all this, Stephen has also penned an autobiography – I Used to Say My Mother Was Shirley Bassey – which he is soon to record for an audiobook version.
Stephen recently took part in the three-part series Pilgrimage: The Road to Rome, alongside Katy Brand and Les Dennis. The BBC Two series, which aired in April and May, saw celebrities give up their creature comforts to follow the Via Francigena trail in France and Italy – to finish up at the Vatican. About the programme Stephen says:"I do jokes, I like to have a laugh and see the good in people. Comedy has taken me around the world. I don't walk, I'm not religious. So going on Pilgrimage was a huge personal shift for me. Never in my mind's eye did I think I'd have a private half-hour audience with the Pope. Not to be blessed by the pontiff, but able to ask unedited questions on behalf of millions.  His response genuinely moved me. Whatever your beliefs are, everyone deserves dignity.  If you fail to respect that, then you don't have a human heart."
STEPHEN K AMOS TOUR SCHEDULE
Buy tickets here. 
NOVEMBER 1
FINCHLEY 
ARTS DEPOT
3
BIRMINGHAM 
OLD REP THEATRE
8
EAST GRINSTEAD
CHEQUER MEAD THEATRE
14
HARLOW
PLAYHOUSE
playhouseharlow.ticketsolve.com
15
NORTHAMPTON
ROYAL & DERNGATE
16
BRIDPORT
ARTS CENTRE
23
SOUTHEND
PALACE THEATRE
24
LEICESTER
THE Y THEATRE
28
CHIPPING NORTON
THEATRE
DECEMBER  6
NEWBURY 
ARLINGTON ARTS CENTRE
10
COLCHESTER
COLCHESTER ARTS CENTRE
12
BORDON
PHOENIX ARTS CENTRE
13
MAIDENHEAD
NORDEN FARM
14
MAIDENHEAD
NORDEN FARM
JANUARY 11
BRISTOL
REDGRAVE THEATRE
15
SALFORD
THE LOWRY
16
GLOUCESTER
GUILDHALL
www.gloucesterticketshop.co.uk
17
FARNHAM
MALTINGS
18
MAIDSTONE
HAZLITT THEATRE
22
EPSOM
EPSOM PLAYHOUSE
23
FOLKESTONE
QUARTERHOUSE
24
CAMBRIDGE
JUNCTION
25
HIGH WYCOMBE
OLD TOWN HALL
26
LEEDS
CITY VARIETIES
29
RADLETT
THEATRE
30
WELLINGBOROUGH
CASTLE THEATRE
31
LINCOLN
PERFORMING ARTS CENTRE
FEBRUARY 1
HERTFORD
HERTFORD THEATRE
5
DIDCOT
CORNERSTONE ARTS CENTRE
6
DIDCOT
CORNERSTONE ARTS CENTRE
7
LONDON
LEICESTER SQUARE
leicestersquaretheatre.ticketsolve.com
8
LONDON
LEICESTER SQUARE
leicestersquaretheatre.ticketsolve.com
9
CAMBERLEY
THEATRE
13
NORWICH
PLAYHOUSE
14
LONDON
LEICESTER SQUARE
leicestersquaretheatre.ticketsolve.com
15
LONDON
LEICESTER SQUARE
leicestersquaretheatre.ticketsolve.com