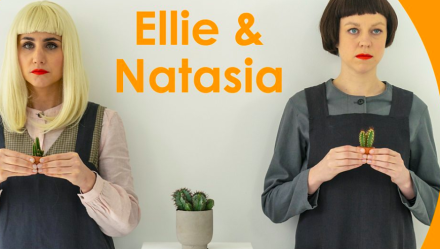 It's a really funny sketch show but it doesn't feel very original. Is it OK to say that?
Ellie White and Nastasia Demetriou are both brilliant comedians and rising stars. White – the one that looks a bit like Bob Geldof – has cropped up in programmes including The Windsors, Damned and House of Fools and Demetriou can currently be seen in What We Do In The Shadows and was also in Stath Lets Flats (with brother Jamie, who also pitches up breifly here as a dodgy East European).
When you've been reviewing comedy for a while certain styles do start to repeat themeselves. The fact that this features women being silly immediately evokes the spirit of Smack The Pony. Like that trio White and Demetriou are both inventive physical clowns, happy to be as undignified or as silly as it as possible to be. Smack The Pony always used to end wth a pop video parody and that's what W & D do too - with a song critiquing male interest in young women and taking it to its logical conclusion with W & D dressing as babies.
Elsewhere their dim hipster duo breaking into a dance at the most random street noises is pretty much note-for-note a nod to the scene in Spaced where raver Tyres starts doing big fish little fish to a road crossing beep. But that doesn't stop it from being funny and I'm probably the only person watching this who will remember Tyres anyway. 
They are certainly good at parodying other formats. Their mums cooking guide youtube video is a joy and their spoof programme Britain's Smelliest Smell brings something new to the gushing telly presenter trope  – imagine Mel and Sue pumped full of cocaine.
There is plenty of chemistry between the duo, with the sketches punctuated by scenes of them as 'themselves' in their bathroom. Yes, there are shades of Morecambe and Wise in bed together here, but apart from me anyone else who might see that similarity is probably dead so it doesn't really matter. This is a one-off, but if they can both find the time between other jobs and a few more new ideas this could be a series. There is certainly no shortage of comic talent on display.
On iPlayer now here.