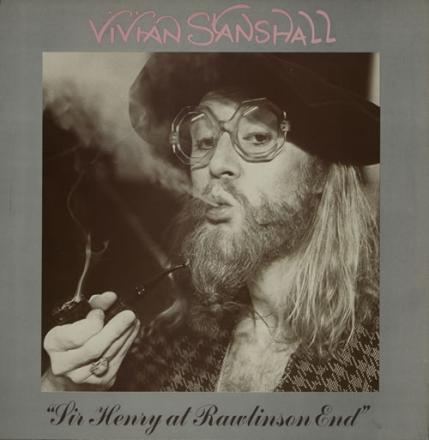 Are you interested in British eccentrics? Are you interested in comedy past as well as comedy present? Do you have good taste? Then hurry along to the Bloomsbury Theatre on April 8 for One Night Stanshall, a tribute to the late Viv Stanshall. The likes of Neil Innes, Rick Wakeman, Rod Slater, Danny Thompson and Michael Gove's favourite rapper Mr B The Gentleman Rhymer will be among those taking part in a performance of Stanshall's veritable masterwork, Sir Henry At Rawlinson End. 
The show, which has already received glowing reviews around the UK, follows 2013's sold out celebration of the life of Stanshall at the same venue. Vivian's son Rupert was so impressed with 2013's show that he has thrown himself fully into One Night Stanshall and is co-producing this event with Mike Livesley, who plays Sir Henry. In 2009 Livesley fell in love with Vivian Stanshall's 1978 LP 'Sir Henry at Rawlinson End' and began to check show listings nationwide for someone who was performing this astonishing piece. After many fruitless searches it became clear that no-one was doing it and, in stunned shock, he determined to perform it himself with his band, Brainwashing House. His mission is to put Vivian's name firmly back on the cultural map where it belongs. 
I'm way, way too young to remember Stanshall when he was a leading light of the Bonzo Dog Doo-Dah Band, but I can recall listening under the blankets to John Peel playing excerpts from Sir Henry in the eighties. It was a picture of a bygone age of collapsing empire that really stayed with you thanks to Stanshall's distinctive, inventive use of language. Drunken Sir Henry presided over his crumbling estate, aided by Old Scrotum, the wrinkled retainer and a host of colourful characters. Whenever I hear about Benedict Cumberbatch it always makes me think of Sir Henry's former gardener Cumberpatch. There's a whiff of Withnail in it too: "I don't know what I want! But I want it now!"
Stanshall was an intriguing figure. Artistic, psychologically complex, unpredictable, daring, outrageous, snobbish and a heavy drinker. And much more. Every now and again those awkward pictures of him in Nazi uniform with his boozy buddy Keith Moon surface.  If you look at old clips of Stanshall he is nothing like the glossy pop stars of the sixties and seventies. There was something of the Victorian colonial gent about the 'ginger geezer' and also something of the Dadaist performance artist, all gangly limbs and jerky movements. If they ever made a biopic of his life Jarvis Cocker could play a younger version and Bill Nighy has to play the older incarnation.
People who appreciate a class act certainly admired Stanshall. Stephen Fry called his delivery "a Dundee cake of a voice, astoundingly deep, rich and fruity". Fellow superfan Danny Baker regularly quotes the line "English as tuppence, changing yet changeless as canal water, nestling in green nowhere, armoured and effete, bold flag-bearer, lotus-fed Miss Havishambling opsimath and eremite, feudal, still reactionary Rawlinson End."
They made a film of Sir Henry which starred ageing Brief Encounter star Trevor Howard in the title role but I'm not sure if it quite captured the full decaying glory of Stanshall's spoken word version. It will be interesting to see how it works in this stage incarnation. There is a bit of Bonzos DNA here too – Neil Innes was a Bonzo before he went on to work with their spiritual offspring Monty Python and write the songs for the Rutles.
I did see Stanshall onstage once. Funnily it was also at the Bloomsbury Theatre, around the late eighties I think. It couldn't have been much later because he died in 1995. He was, to be honest, a bit of a shell by then. Alcohol and hardcore living had taken its toll on him and his style was more (Havi)shambling and less jerky. I think he spent a lot of time seated in a leather armchair onstage. It was chaotic, but a kind of beautifully English chaos. Snap up your tickets to the latest Bloomsbury show for more beautifully English chaos.
Here's a clip from a 2012 performance of Sir Henry.