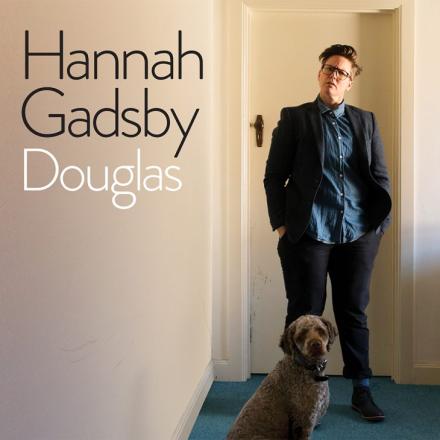 Update 16/6: Extra London date at Royal Festival Hall just added on October 26. Tickets on sale now at link below.
Tasmania's Hannah Gadsby has announced UK dates for her latest show Douglas.
Her acclaimed ashow Nanette played around the world for over eighteen months – taking out the top prizes at the Melbourne and Edinburgh festivals before sitting down in New York and dropping a Netflix special last June. Nanette stopped the comedy world in its tracks and starting a global conversation that continues today.
The stand-up stage has been Hannah's home for more than a decade now and the last couple of years have given her new ideas to think and talk about in her first ever world tour. While Nanette was a random barista, Douglas is a very specific Dog, and the only thing they have in common is they've inspired Hannah Gadsby to put pen to paper and turn out a show you couldn't possibly expect. 
Hannah Gadsby found her voice with Nanette and with Douglas she plans to use it.
Douglas premiered in Melbourne before embarking on a huge US tour, which kicked off in San Francisco and is currently playing everywhere in the US from Nashville to New York. Dates in Europe, Australia, Canada and New Zealand will follow including several dates here in the UK commencing October 24th at Oxford New Theatre and October 25that The Southbank Centre Royal Festival Hall, London.
Hannah Gadsby's overnight success was more than ten years in the making with her award winning stand up shows a sell out fixture in festivals across the globe. Hannah Gadsby played a character called Hannah in the TV series Please Like Me and has hosted three art documentaries, inspired by comedy art lectures she created toaccompany collections at major galleries. Hannah also has a book in the works with Ballantine Publishing in North America and Allen and Unwin in Australia and the UK. Translation rights have been sold in multiple territories
'I have taken Douglas for a walk half way around the world already so it will be nice to be bringing him somewhere I can get a decent cup of tea.' – Hannah Gadsby 
HANNAH GADSBY DOUGLAS UK DATES 2019
October 24th – OXFORD - New Theatre Oxford
October 25th – 27th LONDON – Southbank Centre, Royal Festival Hall, London
October 30th – EDINBURGH - Edinburgh Festival Theatre
November 20th – MANCHESTER – Palace Theatre, Manchester
November 21st – GLASGOW – Theatre Royal, Glasgow
November 23rd – BRIGHTON- Brighton Dome
Ticket links here: hannahgadsby.com.au