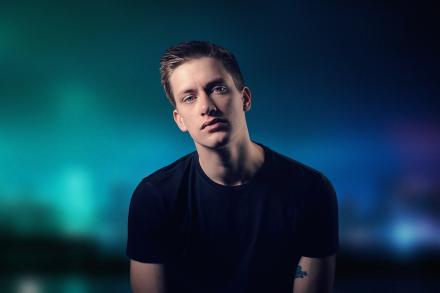 The sign outside the London Palladium with the big picture of Daniel Sloss on it says "as seen on Netflix". The 28-year-old stand-up has been getting increasingly popular in recent years but last autumn the streaming network put out two of his shows, Dark and Jigsaw, and since then he has gone stellar. These two Palladium dates were added to his UK tour to meet demand and in America he has just added nearly thirty more live shows to his busy Stateside schedule. 
This latest show, entitled X, will presumably hit the screens too at some point. It shows Sloss at his best. While still in his twenties he is hugely experienced, and you can see the craft and graft that goes into his stand-up shows. He is the epitome of the assured performer onstage. But this is not the arrogance of youth, this is the confidence of someone who has put in the hard yards and knows what he is doing.
The main topic here is the very contemporary one of toxic masculinity. Throughout X Sloss keeps returning to the theme of what it means to be a man. He has always enjoyed taking his audience down awkward alleyways and he does that from the outset here with a routine about his love of children which doesn't exactly go any of the ways you might expect.
The black-clad comic is the first to admit that he is a flawed individual. He might be woke but he is still a bloke. As he freely admits he says the kind of things privately on the whats app group he is in with his male comedy mates that he would never say in public.
He knows the difference between right and wrong though, even when he his revelling in his childish behaviour. At heart Sloss is clearly a decent, caring human being. He just likes to drink hard, swear harder and maybe make the occasional joke behind closed doors that is sicker than any of the gasp-inducing gags he cracks onstage.
X is strung together by strong stories and consummate skill. When he goes into uncomfortable areas Sloss knows what he is doing. At one point there is a gear change, which on the one hand is abrupt, but on the other is clearly something that the show is building towards. He impressively takes his audience with him all the way on a very difficult journey. He never quite relinquishes the laddishness completely, but there is some memorably weighty maturity and sensitivity here too. 
Tour dates here.
Picture by Troy Edige