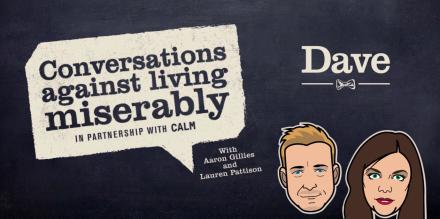 TV channel Dave is launching a new podcast featuring comedians sharing their personal experiences of mental health. The podcast, Conversations Against Living Miserably, is the latest part of a long-term partnership between Dave and the male suicide prevention charity, Campaign Against Living Miserably (CALM).
The weekly 30-minute podcast launches today (Weds 1 May) and is available on all podcast platforms including iTunes, Spotify and Acast. It's hosted by award-winning comedian Lauren Pattison and mental health author Aaron Gillies, also a CALM Ambassador and the voice of Dave on social media. 
Each episode features comedians including Matt Richardson, Elis James, Darren Harriot, Cariad Lloyd, Lou Sanders and Jamie Demetriou talking about how they fight against living miserably. In the first episode, Lauren and Aaron are joined by stand-up comedian Zoe Lyons who talks about appreciating the small stuff, the pointlessness of competitive comparability, and looking at trees. You can listen to the full episode here.
Aaron and Lauren said: "Whatever situation our listeners are in, we want them to be safe in the knowledge that they're not alone and things will get better. We've had a lot of fun recording each episode and we hope everyone can take something from the brilliant stories and journeys our guests have shared.
Dave's channel director Luke Hales added: "Seeing our partnership with CALM develop is a genuine honour and I'm so pleased that we've been able to create a new platform to share meaningful conversations. With humour and laughter at its heart, this podcast is exactly what Dave is all about."  
Simon Gunning, CALM's CEO also added: "We're delighted to continue our partnership with Dave by launching Conversations Against Living Miserably. We know that humour can really lower the barrier when we're discussing difficult moments in our lives, and we hope that listeners will be able to engage in the stories these brilliant comedians will be sharing. We're excited to get this fun, entertaining, and potentially life-saving podcast out into the world." 
Dave and CALM's partnership campaign, titled "Be the mate you'd want," centres around the idea that small gestures from a friend can be a lifeline for someone going through a tough time. It launched on 26th November 2018 with a four-minute ad break takeover voiced by comedian James Acaster. At 9.08pm, one minute before the takeover, the channel saw a 73% increase in adult viewers tuning in. 147% more 16-34 year olds tuned in and specifically, 162% more men aged between 16-34. There were TV, print and radio ads, all with the aim of encouraging people to do something to show a mate that they're there for them.