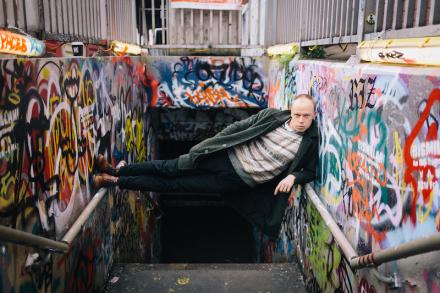 Comedy producers Fight in the Dog and performer Jordan Brookes have received a grant from CreativeXR to create the prototype for an app called Present. This is the first, and only, comedy project to receive funding of this sort to create something which has never been done before.
The team behind it is Brookes, Ciaran Clarke (sound designer for Brookes' show 'Bleed'), and Bríd Kirby (co-founder and Producer for Fight in the Dog)
Present will be an "invasive and immersive" experience for smartphones. Having trouble with your relationship? Problems with your work life? Things getting tricky? Allow Jordan Brookes (stand-up comedian, absolutely not a qualified life coach) to get deep inside your head, and help you through those tough times via the Present app. Whether single or a couple, Jordan will work with you and use the latest technology to appear in your bedroom to absolutely satisfy your (and his) need(s). It promises to be awkward, difficult, and more than a little invasive.
This piece utilises the affordances of smartphones in order to deliver an invasive comedy experience for the user, filling a gap in the immersive market for a comedy experience. Present will be a durational experience that users can participate in as individuals or with a nominated romantic partner, utilising the affordances of the smartphone to create an invasive, durational comedy experience, seeing Jordan Brookes taking the role of an impish life guru. The work sees a binaural soundscape, coupled with layered green screen video, and a narrative that changes on the basis of information that the app, direct input from the user(s), as well as implicit data that the app learns and gathers (utilising techniques from marketing software). The work will initially only take place on the smartphone, but gradually bleed into other parts of their life, seeing Jordan emailing and, if possible, phoning and sending post to the user.  
The aim is to create a prototype of an app which can be used anywhere to create a comedy experience which is as live and engaging as sitting in an audience and to push the boundaries of comedy into other forms.