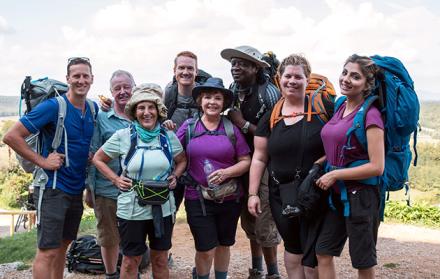 Comedian Stephen K Amos is one of the celebrities alongside alongside Katy Brand, Brendan Cole, Lesley Joseph, Les Dennis, Dana, Greg Rutherford and Mehreen Baig appearing in Pilgrimage: The Road To Rome. As the title suggests the group will be walking to the Italian capital and discussing their beliefs and more along the way. Here Stephen K Amos talks about his experience. Read Katy Brand talk about her experience here.
Why did you decide to join the pilgrimage?
It was a chance to walk an ancient trail surrounded by amazing scenery with time for solace and contemplation. Plus I've never walked anywhere in my life and the thought of me wearing hiking boots, a rucksack, and walking poles is surely a sight enough to behold.
Have you ever taken part in anything like this before? 
I always wanted to join the scouts when I was a kid but we never had enough money for the subs. So, to teach me orienteering, my dad drove me into the middle of a field five miles away, gave me a compass and said 'I'll see you at home.'
Did you have to prepare in advance for the pilgrimage? 
What did I do? I took advice from the hiking equipment shop, which I thought was invaluable, to break in my boots. He said this, and I quote: "the best thing to do is stay indoors and walk up and down the stairs a few times." At this point I thought, this is easy!
Have you ever walked this far before? 
If you're asking me if I've ever walked 27 kilometres at a stretch, the answer is no. I live only five minutes from the tube station and there's a reason for that. However, when I was a student I did walk five kilometres to my Saturday job, because as a student I had no money.
Did you find it a challenge? 
It was challenging and hard to complete the pilgrimage. I was walking non-stop for hours on end, finding my own pace, sometimes in direct sunlight, with a rucksack on my back. That is a sentence I never thought I would say. What it did do was open one's mind to your surroundings and realise that you could achieve a strong bond with people who were experiencing the same thing.
What was your highlight? 
Knowing that I could, if I wanted to, really challenge my body and my mind. I came back feeling fitter and healthier than when I started. The encouragement, support and camaraderie of my fellow pilgrims was also a life lesson and I've come away with some life-long friendships. Also, meeting perhaps one of the most progressive Popes in history.
What was the hardest part? 
The hardest part was doing away with what I consider home comforts. At six foot two a single bunk bed is not my friend. Dealing with the mountainous terrain filed with steep inclines and the day time sun was a challenge, and of course the bug bites.
Are you affiliated to any religion?
No.
If you don't have any faith, what helps you explain the world? 
I don't like labels. I'm a firm believer in just treating people as you yourself want to be treated.  We're all navigating this world through our own eyes. The fact is this could be heaven, this could be hell. None of us actually know so why not just be a decent human being?
Has the experience changed or increased your faith? 
It has increased my faith in human beings, particularly my fellow pilgrims, who were essentially representatives of different faiths and beliefs. It also taught me not to pre-judge someone based on their faith. Some of the people I met on the way actually re-affirmed my pre-conceived judgements about their faith, but others absolutely enlightened my way of thinking.
Have you stayed in touch with the other pilgrims? 
We have absolutely stayed in touch and some of us have even met up on a few occasions. It's funny to readjust to seeing them in their civilian clothes and out of the context of the pilgrimage. I felt the need to walk them up to the top of the hill and walk them down again.
Describe your experience meeting the Pope.  What was that like? 
Let's just say it was a moment that will stay with me for the rest of my life.
Would you do it again? 
I'd certainly go on a walking adventure again. Maybe this time with a king size bed at the end of the day thrown in.
Pilgrimage: The Road To Rome, Fridays from April 5, 9pm, BBC Two.
Interview supplied by publicist.