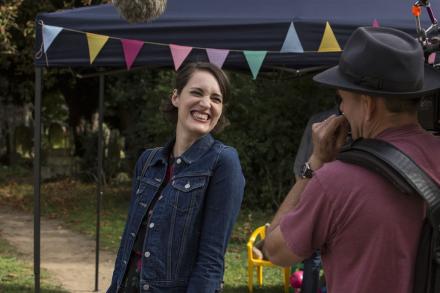 After last week's slam dunk of an opening episode the second instalment of the second series slips into more conventional comedy territory with Fleabag's main concern being the fact that she has the hots for a hot priest, played by Andrew Scott.
This prompts a lot of late night googling to see exactly what the deal is. What exactly is celibacy and are there any loopholes? If there is one you can be sure Phoebe Waller-Bridge's Fleabag will find it, but for now she is doing all she can to stop herself from saying the unsayable and/or ravishing him on the altar. Cue the usual trademark sideways glances.
Elsewhere this fast-paced, eventful episode also moves the plot on. The 'did he or didn't he?' argument over the kiss from her sister's husband Martin (Brett Gelman) threatens to be heading to court and there is a very funny scene when Fleabag meets up with a gregarious comedy lawyer who can't stop stuffing his face.
Things are a little more serious in the therapy session with Fiona Shaw, where Fleabag attempts to confront her problems with sex and relationships. It's a great scene, but therapy sessions are becoming something of a comedy trope. It was only last week I watched Paul Kaye playing a self-obsessed shrink alongside Ricky Gervais in After Life.
All of this and Fleabag has to resist that hot priest again at a sunny Richard Curtis-style posh fete and pose for a portrait with her sister Claire (Sian Clifford). The picture is the idea of her artist godmother, played by Olivia Colman, so you can rest assured it will not go swimmingly. 
New episodes are streamed by iPlayer on Mondays at 10am and also screened on BBC One for some reason at 10.35pm on Mondays. Is there anyone who can wait until 10.35pm and is there anyone who watches Fleabag who doesn't have broadband (cue wry sideways glance)?
Picture: BBC/Two Brothers/Luke Varley