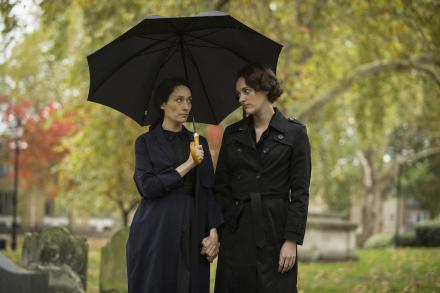 So follow that. After the seismic success of the first series of Fleabag the action picks up 371 days and some hours later, with the family gathered for an important celebratory dinner. But this is Phoebe Waller-Bridge's Fleabag, it's never going to be an uneventful meal is it, as an early scene in which a bloody nose is wiped makes abundantly clear.
Before we get to the explosions we get a bit of exposition. In a fast-cut flashback catch-up we see that Fleabag has tried clean living – avocados, celibacy, etc – but it's not really been working out. The problems that we saw in her life – the mad family, the guilt over causing her friend's death, for example – run too deep.
And so here is everyone gathered around the restaurant table, including dad (Bill Paterson) and artist godmother (Olivia Colman), direct from making cultural waves in Japan, who are getting engaged ("Here's to love" - yeah, right). Then there's repressed sister Claire (Sian Clifford) who is commuting from Finland, as you do, and her horny husband Martin (Brett Gelman). 
And there's a new character present too, a priest (he doesn't have a name on IMDB) played by Andrew Scott. It's fairly obviously that he is going to play a pivotal role in Fleabag's life from the moment they almost share a fag break in an alleyway. Plus you don't often see priests who are as sexy as this in real life.
Anyway, we won't say too much about what happens. Let's just say that the theatrical dialogue among this dysfunctional family fairly crackles away, with multiple truth bombs dropped and shocks creating an emotional pile-up. Onscreen gatherings are always a rich source of comedy and drama and while there are laughs here, this is more like the meeting point between Festen and Meet The Fockers. Funny, yes, but with a definitely undertow of sadness and pain and regret. If you've missed Fleabag's trademark sideways looks to the camera, don't worry, you get plenty of those too. 
Available on iPlayer now here and on BBC One on Mondays from March 4 at 10.35pm.
Picture: BBC/Two Brothers/Luke Varley