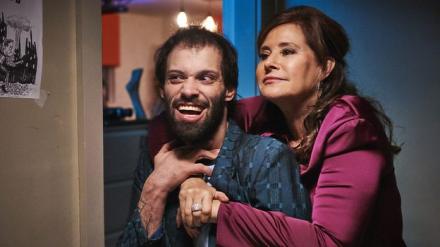 BBC Three has come up with a pocket-sized gem in Jerk. Following a one-off pilot in 2016, this is only a four-part series but there's a surprisingly pleasing arc to it as we go from squirming at the main character Tim's behaviour to cheering him on at the end. As they say, we laugh and we learn.
Stand-up Tim Renkow plays Tim, who, like Renkow, also has cerebral palsy. But that doesn't mean the real Tim is quite as inappropriate as the fictional Tim. In the first episode, for example, he lands a job with a trendy card agency called Anarchy Hamster – think Moonpig for hipsters – and although he is clearly a talented artist he can't resist talking about and drawing shit and discussing other bodily functions. Inevitably this gets him into trouble and eventually the sack, when he says of a breastfeeding colleague that "I didn't think you could eat lunch at your desk." This gives him the perfect chance the berate his brief boss for only employing him to tick diversity boxes.
Episode two has something of a Curb Your Enthusiasm feel to it as the perpetually barefoot Tim accidentally ends up pretending to be a middle eastern asylum seeker when he sneaks into a food bank for refugees to grab a free meal. Inevitably he has to keep up this pretence much longer than is actually necessary, eventually inventing an entire backstory when an entitled hooray Henry wants to make a documentary about him. 
In episode three we have a bit of a cerebral palsy face-off when Tim meets Lee Ridley (Lost Voice Guy) who plays a rival artist. Their spat in the street in particularly hilarious as they hurl insults at each other, Ridley via his iPad, Renkow while wobbling about in his walking frame. Things look up for Tim, however, when he has a date, but when he takes her to Ridley's art opening things don't pan out as expected. Just to make things even more awkward, Tim's American mum – played by Lorraine Bracco from The Sopranos – has come over to visit him.
In the final episode it turns out that Tim may have to be deported. His visa has run out and, unless he can very quickly get married or find a long-lost Egnlish relation, there isn't much chance of him being able to stay in the UK. Will he be able to set up home here? You'll have to watch to find out.
Tim seems like an unlikely hero at first, but one soon warms to him. The ruder he is, the funnier he is and weirdly the more amiable he is. He uses his disability to take advantage of people who dare not answer back. If there is a message here it is that people with cerebral palsy can be arseholes too.
Renkow, who wrote this with Shaun Pye and Stu Richards, is well-supported by Sharon Rooney as his gobby carer Ruth, Rob Madin as the wimpish Idris, whose thankless job is to fix Tim up with a job. Familiar comedy faces Luke McQueen, Lauren Pattison and Karl Theobald also pitch up. It would be good to see more of this - unlike Tim's boss, let's hope the BBC hasn't commissioned this to tick diversity boxes.
Watch the full series of Jerk here and weekly on BBC One on Mondays at 11pm.