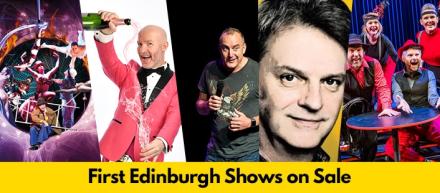 After a record year in 2018 in which the Pleasance artists won two Fringe Firsts, two Herald Angels, one Herald Archangel award and the Holden Street Theatres Award, and Pleasance acts won both Best Newcomer and Best Show at the prestigious Edinburgh Comedy Awards, Pleasance are back with another fantastic programme. Kicking things off the Pleasance Theatre Trust have already put shows on sale.
After wowing audiences last year when Kate Copstick boldly entered the Globe of Death, Cirque Berserk! return to the Fringe with a reworked and updated version of their smash hit sell-out theatre-circus spectacular. Combining contemporary cirque-style artistry with adrenaline-fuelled stunt action, this astoundingly talented international troupe includes over thirty acrobats, aerialists, dancers, drummers and daredevil stuntmen who come together to present a jaw-dropping spectacular.
Showstoppers are also bringing their much-loved charisma back to Pleasance this year. The Olivier award-winning, West End hit sees the phenomenal cast create a brand-new musical comedy from scratch at every performance. Witness an all-singing, all-dancing world premiere every night with hilarious results.
Also dazzling us with their improvisation skills are Paul Merton and his highly acclaimed Impro Chums - Suki Webster, Richard Vranch, Lee Simpson and Mike McShane. These wonders of nature take audience suggestions and create cascades of fantastic tumbling laughter.
As already announced exclusively on BTJ join Craig Hill as he pops the cork to toast his 21st show at the Fringe. With a hilarious and delightfully fizzy tone, Craig's sharp observational jokes will keep you bubbling all the way to the bottom.
Also returning is the wonderful internationally acclaimed Irish master Jimeoin. This world-class stand-up returns with Ramble On! – this is comedy at its best. You've seen him at the Apollo, at the Palladium and, incredibly, this is his 26th Fringe.
The Pleasance's programme will offer some of the biggest names in entertainment, much-loved returning acts and exciting newcomers. With more shows to be announced over the coming months there will be comedy, theatre, circus, magic, dance, kids' shows and much more, alongside support for some of the most innovative newcomers through artist development strand Pleasance Futures. The Pleasance should certainly be the pick of your Fringe this August.
Tickets for the above shows are available at www.pleasance.co.uk or by calling 0131 556 6550.
Jimeoin picture by Wullie Marr
Craig Hill picture by Steve Ullathorne