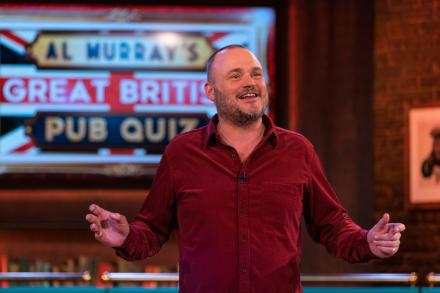 Al Murray's Great British Pub Quiz is coming to TV channel Quest.
Each week from his studio pub, Al will bring together teams from the country's best-loved pubs from all over the UK, in a head-to-head battle to bask in the glory of being crowned winner, and the chance to take home the Great British Pub Quiz tankard plus £1,000 in cash. 
Filmed in front of a live studio audience, Al will be ably assisted each week by resident barman and know-it-all Shaun Williamson.  A multiple TV quiz champion himself, (Celebrity Mastermind winner, three-time Celebrity Pointless winner, Celebrity Eggheads winner and The Chase winner), Shaun will be on hand to keep score and proceedings in order, as well as going head-to-head with one member from each team in a special round, 'Beat the Barman'.
The battling teams will be marshalled by regular celebrity team captains including: Hugh Dennis, Andy Parsons, Kerry Godliman, Phil Jupitus, Marcus Brigstoke, and Craig Charles.
There will also be a lot of knowledge and fascinating facts knocking about as teams are pitted against each other in a series of classic pub quiz rounds including odd one out round 'One Too Many' and mystery object round 'What is It?'
Al Murray said: "It's very exciting to be putting the Quest into Question with the Great British Pub Quiz. You're going to see some of the finest quizzing minds in the country duking it out as well as the most knowledgeable barman on the planet, Shaun Williamson, do his quizzing thing."
Simon Downing, SVP, Head of Factual and Sport said: "We're hugely excited with our brand-new series  Al Murray's Great British Pub Quiz. It's an incredible time for Quest, as the new commission marks our first move into original entertainment programming. With Al's legendary comedic talent at the helm, it's going to be a fantastic show. We can't wait for everyone to see it!"
Al Murray's Great British Pub Quiz starts on Quest on Thursday,March 7 at 10pm.