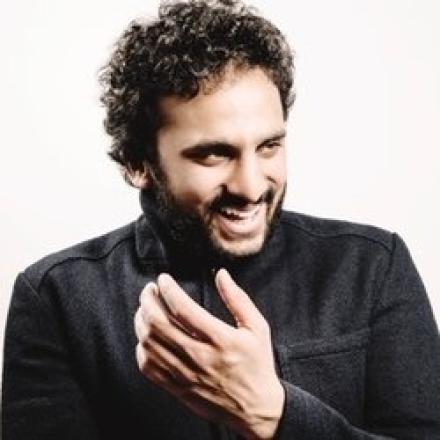 Nish Kumar is one of the few UK-based comics to have a second Netflix special. Well, not quite, but his Live from The BBC set has been available on the streaming channel for a while and eagle-eyed viewers may spot some overlap with this new show recorded in Canada. It is not just his trademark black suit that is back*, but also some of the material.
Most notably Kumar reworks his impressive Monopoly routine which first featured in his Edinburgh Comedy Award-nominated show in, I think, 2016. That was the show that marked his transition from genial observational comedian into someone more overtly satirical. It was probably the set that helped him land the job as anchor on BBC2's Mash Report too.
This 30-minute special is more of an intro to Nish, mixing the personal and the political. Alongside his Monopoly riff in which he rages against the idea that kids are taught about rampant capitalism through board games there is plenty of self-mocking humour. He never wastes an opportunity to point out that he was a teenage geek and a late starter when it came to women. He is a hard-hitting political comic but a twat too. Even when he describes himself as "very clever" – and he is – that twat moment is not far behind.
In one great self-deprecating section he recalls how he made a twat of himself at a David Bowie concert. He attended on his own and through an unlikely set of coincidences found himself to be the only person shouting at one point. 
The self-deprecation continues when he discusses what kind of rock star he would like to be if the chance arose. Kumar is not interested in the role of the grandstanding frontman, there would be too much scrutiny and hassle. Instead he'd like to be the drummer from Coldplay ("rich as shit and noone knows who the fuck he is"). Someone well-paid, but relatively anonymous. It's an astute observation which he first did when he wasn't very famous. Now that Kumar is starting to get recognised in the street himself as a comedian it probably has more resonance then ever.
Watch Nish Kumar: Very Clever Boy on Netflix now.
Joel Dommett, Netflix, Review.
Ellie Taylor, Netflix, Review.

Picture: Idil Sukan
*it might be a different one but it looks the same