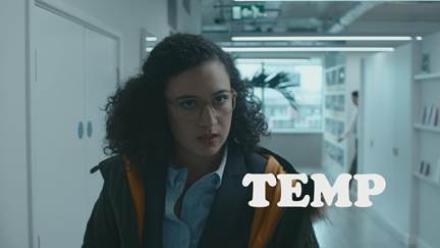 Channel 4 has released three new Comedy Blaps featuring Tez Ilyas, Edinburgh Comedy Award winner Rose Matafeo and Nida Manzoor.
Channel 4's Blaps have a strong track record of being the birthplace of many series commissions. Recently Stath Lets Flats, High & Dry and Lee and Dean were broadcast on the channel after beginning life as Blaps. New commissions for 2019 Home (Channel 4) and Dead Pixels (E4) have also come from Blaps.        
The new Blaps are commissioned by Fiona McDermott, Head of Channel 4 Comedy and Commissioning Executive Laura Riseam. Laura said: "We're thrilled to be working with these up and coming comedy talents and have them join the gang of Channel 4 Blap creators. It's a delight to be able to showcase such a fresh, innovative and diverse range of comedies. What a Christmas treat!".
Watch them here.
In Bounty, Terry (Tez Ilyas), a young British Muslim, has moved back with his family in Blackburn and hates it.  A corporate high-flyer, he's thrived in a leading consultancy in London for the last five years, but has returned home to take on the risky Blackburn Community Cohesion Project. Out of his depth, Terry finds himself a fish out of water in the very pond in which he grew up. His mum is convinced she knows what is best for him, his Insta-obsessed younger sister, Sofia resents him and her buffoonish husband-to-be, Abid, irritates the heck out of him. But at least he has his cousin Waseem, his best friend and partner-in-crime growing up. Except that Waseem has grown a massive beard and become proper religious!
All the while, Terry has a (white) girlfriend, Jess, in London, who demands he tell his mum about their relationship. How's he going to balance the circus at home, the politically-charged job and his four-year secret relationship?
Bounty is written by its star, acclaimed comedian Tez Ilyas, who said:  "OMA! I can't believe that Channel 4 and Big Talk have trusted me with a Blap. Bounty is the story of pretentious hipster Terry and the immediate challenge he faces after moving back to his hometown, Blackburn.
"Through his exasperations, we encounter his equally charming and terrifying mum; his deceptively smart little sister; his little sister's oafish fiancé; and his parochial cousin.  I hope people enjoy this as much as we did making it because I have so many more hilarious personal stories to tell and such a rich subculture to explore, which I'd love to show the wider world."
Bounty also features Guz Khan (Man Like Mobeen), comedians Sindhu Vee and Aatif Nawaz as well as Ashna Rabheru. Bounty is directed by George Kane (Timewasters/Crashing). The producer is Lara Singer. Executive Producers are Saurabh Kakkar and Kenton Allen. It is a Big Talk Production.
Rose Matafeo: Temp is a stylish three-part series showing a slice of life of a transient temp worker and their interactions with three colourful characters in the same office building. Temp boasts a talented cast featuring Joe Wilkinson, Ellie White, Vivian Acheampong and Gaby Best.
Rose Matafeo said: "It was a thrill to convince such a talented group of comedians to help play out an offbeat fantasy of temp life in these Blaps. Hopefully these little vignette-ish glimpses into the high drama of low stakes office life make some of you laugh."
An Avalon production, Rose Matafeo: Temp is written by Rose Matafeo, produced by Tom Miller, directed by Al Campbell and Executive Produced by Rob Aslett, Richard Allen-Turner and Jon Thoday. Temp also features Joe Wilkinson, Ellie White, Gabby Best, Ray Badran and Vivienne Acheampong.
Writer/director Nida Manzoor's Blap is an anarchic and subversive music comedy following a Muslim female punk band, called Lady Parts.
Amina Hussein (Anjana Vasan), geeky biochemical engineering PHD student, wants to find a husband and settle down. She also happens to shred a mean guitar and unbeknownst to her, Saira Shah (Ritu Arya), the enigmatic, tattooed front woman of Lady Parts, is desperate to find a lead guitarist. These two young women and their very different worlds are set on a collision course when Saira becomes convinced that Amina is the only woman for the job.
Using Amina's horniness as leverage, Saira and the band offer to hook her up on a date with one of the hot AF Alkaaf brothers – making her an offer she can't refuse.
Nida Manzoor said: "I am deeply thankful for the incredible support and encouragement from Channel 4 and Working Title; Giving me freedom and confidence to explore my voice and vision and providing constant positivity and guidance throughout the process. Making Lady Parts meant so much to me as it enabled me to show Muslim women for all the humour, diversity and strength they possess – rarely depicted this way in mainstream media.
"I loved making Lady Parts, as we were able to bring together an awesome ensemble cast as well as a crew of brilliant creatives, giving the show a distinct look and tone. Also, I was able to collaborate with my brothers and sister in making original music for the show, which was crazy fun and adds to the character of the piece."
Nida Manzoor wrote and directed Lady Parts. Executive Producers Mark Freeland and Surian Fletcher-Jones. It is a WTTV production.