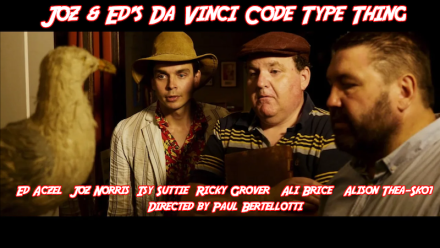 Watch the latest short Joz Norris has made with Ed Aczel. It's directed by Paul Bertellotti and co-stars Isy Suttie, Ricky Grover, Ali Brice and Alison Thea-Skot, with sound by Lottie Bowater. 
Joz & Ed's DaVinci Code Type Thing is the second in a series of shorts Norris and Aczel have been working on that subvert/undermine the tropes of particular film genres and "render them utterly pointless." This one seeks to undermine/subvert adventure films and conspiracy thrillers like The Da Vinci Code. In 2019 they will be following it up with their take on the heist genre, which has been produced by Murder In Successville's Avril Spary and co-stars Michael Stranney, Lucy Pearman, Ben Target and Alison Thea-Skot.
Watch
Joz Norris & Ed's DaVinci Code Type Thing 

below.