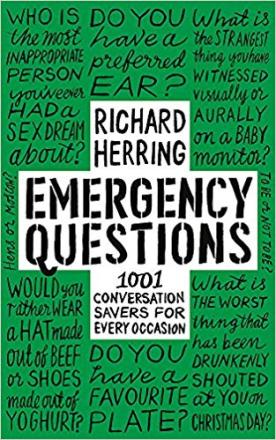 Have you ever been stuck for something to say to the person next to you at a dinner party? Ever lost for words on a long-haul flight? Or when your train is stuck in a tunnel? Then help is at hand.
Richard Herring's book Emergency Questions: 1001 Conversation-Savers For Any Situation will come to the aid of anyone who has ever been tongue-tied.
The brilliantly inventive and hilarious book was inspired by Herring's celebrity podcasts when he would have a selection of questions to fall back on when an interview reached an awkward impasse or conversational cul de sac.
Questions range from the almost serious to the utterly ludicrous. From "If you dropped your mobile phone down the portaloo on day 3 of Glastonbury Festival would you retrieve it?" to "what is your favourite oxide?" to "if you could make anything an Olympic sport what would be your best shot at winning a gold medal?"
Or "If you had to invent a fifth season, which two other seasons would you put it between, and what would happen during it?" Or how about "What do you consider your median achievement?" and "What is your third earliest memory?".
There is also a special section of questions based on the two interviews Herring did with David Mitchell for his podcast. They include "What is the most unsettling or aggressive street performer you have ever seen?" Or you can always ask people if they have ever seen a Bigfoot as Herring often did with his podcast guests.
This essential book been endorsed by numerous famous names who you would think would never be lost for words. Sarah Millican says: "This book is very funny. And a social lifesaver. I'm definitely going to use it for my next awkward conversation with Richard Herring."
Dave Gorman says: "Guaranteed to get a conversation started . . . even if it ends up being a conversation about your weird taste in books."
And Bob Mortimer says "I am involved in emergency situations on a daily basis, with Richard's book I can avoid the majority turning into a crisis." 
On signing the deal for the book Herring said: "I am so excited that thanks to Sphere non-fiction my ridiculous, childish and occasionally accidentally deeply philosophical questions will be reaching a wider audience. I hope that it will lead to conversations between strangers on buses, successful first dates and ultimately world peace. But at the very least make your gran laugh 'til her false teeth pop out on Boxing Day."