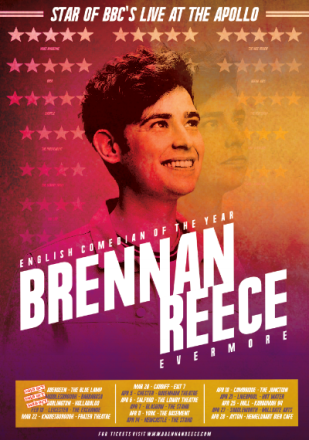 Following his appearance on Live At The Apollo, over 6 million Youtube hits and a stint in South Africa as the voice of ITV2's hugely popular Survival of the Fittest, award-winning comedian Brennan Reece is heading out on his third UK tour, Evermore.
All through his life Brennan has been dead set against the idea of falling in love forever. It never worked for anyone close to him. His Mum and Dad split up after four decades. His Brother and Sister are recently divorced (from different people...) and after almost 70 years of marriage even his Nanna and Grandad parted ways (but that was mainly due to death). For Brennan, love wasn't for him...until suddenly, it was.
Like Brennan's previous two shows (Everglow and Everlong) Evermore celebrates the marvellousness of the women who have made him who he is today. And his obsession with the internet. Completely underscored with music from a live band, this is a truly captivating story from a true working class wanderer. A show about the beauty of love, and how fragile it can be.
Brennan is a multi award-winning wordsmith (Edinburgh Comedy Award Best Newcomer Nominee and English Comedian Of The Year Winner). A stand-up, a storyteller and self-confessed mummy's boy. His boyish cheeks recently cropped up on Comedy Central's, Live At The Comedy Store, and he is soon to appear on ITV's Stand Up Sketch Show. He has also appeared in the BAFTA-winning dramas Marvellous and Skins.
For dates click here.