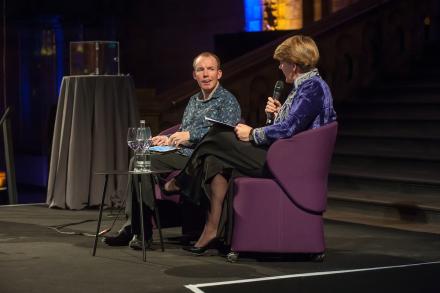 The disability equality charity Scope has announced that Lee Ridley, also known as Lost Voice Guy, is now an ambassador for the charity.
Lee's profile has rocketed in the past year. He was the first comedian in the history of the show to win 'Britain's Got Talent' and has been invited to appear on 'America's Got Talent: The Champions' which will be televised on NBC in January 2019.
At the same time his work and engagement with Scope has increased significantly, and like Scope he's committed to changing society, promoting equality for disabled people and challenging injustice.
Lee Ridley said: "It's an absolute honour to be an ambassador for such a great charity. It has helped myself and so many other disabled people over the years. So I hope to be able to give something back to the charity in my role as ambassador. It's a nice way to end a great year."
Tracy Griffin, Director of Marketing, Fundraising and Communications, at disability equality charity Scope, said: "Lee is a brilliant comedian, who won the hearts of the British public when he triumphed in this year's Britain's Got Talen. His victory is a great example of why it's so vital to ensure disabled people have the same opportunities as everyone else to follow their dreams. Both Lee and Scope want disabled people to have an equal chance in all areas of life. That's about finding work, thriving there, being able to use our public transport network unhindered, and being financially secure. Like everyone at Scope I'm looking forward to working with Lee in the years to come."
Ambassadors are a key part of the influencing, campaigning and wider communication of the charity. They use their influence to mobilise support, personally engage with campaigns, back and visit Scope services and promote fundraising activities. 
Each ambassador is an individual and their role as a Scope Ambassador will vary, depending on their personal interests, connections and availability.
Pictured: Ridley with Clare Balding