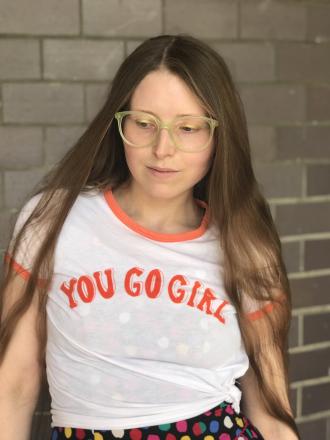 Jessie Cave will embark on her debut UK tour in 2019 with her hit show Sunrise, following a sell-out run at the Edinburgh Fringe 2018. Sunrise, a heart-warming and tender show about babies, breaking up, and getting back on your feet, will tour venues around the UK, beginning at Warwick Arts Centre in Coventry on 24th February 2019 and concluding at Cambridge Junction on 21st March 2019. Tickets go on sale on Thursday 1st November 2018 available here.
Dating again after a complex break-up (with fellow comic Alfie Brown), Jessie is trying to get her personal life in order – before her kids wake up. People think once you have babies you'll stop worrying about the silly little things. You don't. People think when you have babies you'll be in a happy monogamous relationship. Not necessarily. Sunrise is about trying to do it all as a mother, girlfriend AND ex‐girlfriend whilst also trying to work hard, be RELAXED and keep up with the pack. This is a 'break-up' story that is hopeful and, although a unique situation, relatable to other people also going through break-ups who are trying to reclaim confidence and be okay with just themselves again. 
Jessie is one of the most distinctive voices on the comedy scene. She stormed the Edinburgh Fringe with Sunrise this August, scooping widespread critical acclaim. Sunrise is directed by Soho Theatre Associate Adam Brace, Sound Design is by Adam Welsh, of acclaimed theatre company Dead Centre, and the show is designed by - and the pillows and backdrop are made by - Jessie's mum, Debbie.
As an actor, Jessie is best known for playing Lavender Brown in the Harry Potter series. She was a regular in Sky's flagship sitcom Trollied and has recently appeared in Call The Midwife, Black Mirror, Loaded and Father Brown. She is currently developing a drama pilot for E4 with Kudos/Channel 4, and is one of the artists in residence as part of Soho Theatre's Soho Six programme.
Jessie's doodles about love and her depiction of motherhood have a cult following on Instagram. Her doodles and comedy were featured in Dictionary Corner on 8 Out of 10 Cats Does Countdown, and her first book of doodles, Love Sick, was published by Penguin Random House in 2015. Sunrise will be published in book form by Nick Hern Books to coincide with the tour, available from 22nd November 2018.  
Jessie Cave: I Loved Her is available to download on Soho Theatre On Demand at www.sohotheatre.com/show/jessie-cave. 
Tickets for Sunrise 2019 UK tour are on sale here. 
Buy tickets for Jessie Cave's Soho Theatre shows here. 
Jessie Cave Sunrise Tour 2019 
24/02/19 COVENTRY, Warwick Arts Centre www.warwickartscentre.co.uk 
26/02/19-27/02/19 BRIGHTON & HOVE, The Old Market http://theoldmarket.com/
01/03/19 KENDAL, Brewery Arts Centre www.breweryarts.co.uk
03/03/19 EDINBURGH, The Stand Comedy Club www.thestand.co.uk
04/03/19 GLASGOW, The Stand Comedy Club www.thestand.co.uk
05/03/19 NEWCASTLE, The Stand Comedy Club www.thestand.co.uk 
09/03/19 BIRMINGHAM, Patrick Centrewww.birmingham http://hippodrome.com/
14/03/19-16/03/19 MANCHESTER, Home homemcr.org 
21/03/19 CAMBRIDGE, Junction www.junction.co.uk