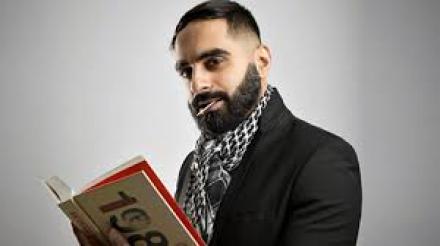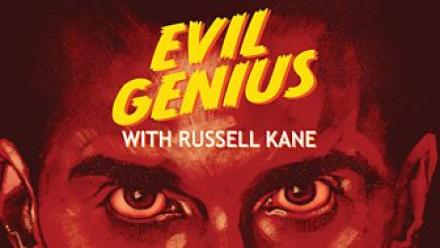 The BBC is launching BBC Sounds, which brings together 80,000 hours of music, radio and podcasts, available live and on-demand in a personalised single app and website. 
As part of this, the BBC will release a raft of new and returning podcasts, featuring new voices and well-known names which will be available to listen to, subscribe and download on BBC Sounds.
These include: Evil Genius with Russell Kane (pictured bottom), GrownUpLand, Birthday Girls' House Party, and Tez Talks (pictured top), listeners can also enjoy the back catalogue of popular podcasts made outside of the BBC including The Guilty Feminist and The Beef and Dairy Network.
Additionally, there will also be more than 100 hours – 20 different titles – of newly available classic BBC comedy and drama from the archives which are exclusively on BBC Sounds. This includes back catalogues ofThe Tim Vine Chat Show, comedies Simon Evans goes to Market, Rudy's Rare Records and five series ofThe Shuttleworths, dramas Just a Girl and nine series of The Pursuits of Darleen Fyles. Over the coming year there is expected to be more than 1000 hours of comedy, dramas and documentaries from the archives.
BBC Sounds will include:
Twenty new podcasts available on BBC Sounds including Beyond Today, a daily news podcast, as well as new podcasts from well-known favourites Rylan Clark-Neal, Konnie Huq, Colin Murray and the stars of EastEnders
Forty new and exclusive music mixes curated by the BBC's music experts, artists and others including top footballing stars
Popular and chart topping podcasts made outside the BBC including The Guilty Feminist, Beef and Dairy Network, Griefcast and Swipe Left Swipe Left available on BBC Sounds
Over 100 hours of classic BBC comedy and drama newly available and only on BBC Sounds
The BBC's national and regional radio stations as well as BBC World Service, live and on demand
With more people listening on mobile, BBC Sounds makes it easier to discover and enjoy exclusive music mixes, award-winning BBC podcasts as well as popular podcasts made outside the BBC.
BBC Director-General Tony Hall said: "Radio is a unique and precious part of our lives and we're innovating to secure its future for generations to come. BBC Sounds is a standalone , and standout, destination bringing the best of everything we do in audio into one place. It allows us all to experiment – to explore new music, stories and ideas – to play with form and content.  And it's going to support a whole new generation of talent."
James Purnell, Director of Radio and Education, added: "BBC Sounds will bring you all our audio, at the touch of a button.  We'll do the hard work of finding the right mix, podcast or radio programme for you.  It's the start of an adventure – we'll learn from our audiences to keep improving what Sounds offers, so we can bring the best to everyone."
BBC Sounds will be loaded with all of listeners' favourite shows and podcasts as well as brand new podcasts and music mixes, with more to come over the following weeks and months. It is available now online at bbc.co.uk/sounds and can be downloaded for iOS, Android and Amazon.
Read more about what you can do on BBC Sounds here