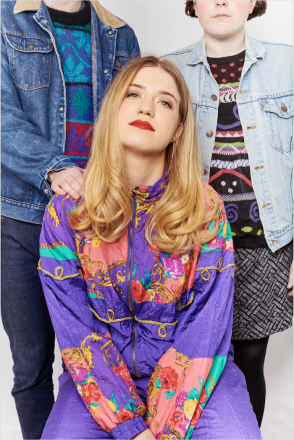 Edinburgh Comedy Award Best Newcomer nominee Olga Koch has announced she is touring her show Fight across the UK. Kicking off with a week-long residency at Soho Theatre in London in January, the tour will run from 14th January to 23rd March. Tickets go on- sale 10am tomorrow (Friday 26th October).
There has been significant industry buzz around this impressive young stand-up and her debut show this year. At 25, Koch is a fresh and fierce new millennial voice, who has steadily been proving she's a force to be reckoned with.
In 2014, Olga's father got stopped by authorities on the Russian border, which resulted in the most surreal year in her family's life. The show sees her try to dissect this real-life spy drama with nothing but a projector and one-of-a-kind, distinct comic voice.
In this unique hour, Olga takes her audiences on an insider tour through the making of modern Russia, where the political is always personal, and no one knows why the host of "Who Wants to Be a Millionaire?" is passed out in your childhood bedroom. While most British children spent the 1990s watching Art Attack and eating Lunchables, Olga's family experienced the lowest lows and highest highs of post-soviet freedom, with her father going from a janitor to Mayor to Deputy Prime Minister of Russia, to game show host, to dissident. It's not your average fairy tale: Fight is where The Princess Diaries meets Vice.
Donning her signature tracksuit, Olga presents this dystopian tour-de-force about how history (fashion, or otherwise) always repeats itself. Fight is the battle cry for a generation that takes freedom for granted, inspired by a generation that grew up without it.
All tickets can be purchased from: https://www.tickettext.co.uk/olga-koch-tour/