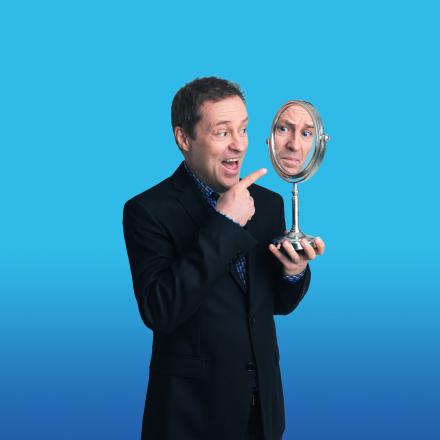 Ardal O'Hanlon will tour in 2019 with a brand new show, The Showing Off Must Go On. Beginning at the Y Theatre, Leicester on 24th February 2019, and concluding at the Palace Theatre, Southend on 8th December 2019 the tour will take in a total of 47 dates.
Where Ardal comes from (small-town Ireland) there is nothing worse than showing off. Yet he is a professional 'show-off' who continues to do stand-up comedy for money, a very shy show-off (and as a result conflicted) but a big show-off nonetheless (a disgrace to his family). So why does he do it?  
Well. Just when he thought he'd made sense of the world, when he thought he knew everything he needed to know. When he finally found a hat that he liked and learned how to make cocktails and how to relax sagaciously in a big chair. Just when he was about to quit airing his dirty linen in public and stop (for the love of God) showing off, the world shifted. Dramatically. The world fell off its axis. And is adrift in the universe. And needs saving.  
In an age of raging populism, #MeToo, identity politics, the end of truth, the collapsing middle ground, peak avocado and £15 Gin and Tonics, and terrified of being on the wrong side of history, and desperate to prove that his gender, race, age and class don't necessarily define him, Ardal is forced to saddle his high horse again and ride fearlessly into the culture wars (with a white hankie in his pocket just in case), comedy as ever being the best emergency response mechanism to extreme events there is.
Ardal O'Hanlon said: "I'm absolutely thrilled to be bringing my stand-up show on the road in 2019, having been testing stuff in clubs and at festivals for the past few years. It's great that the noise in my head is finally cohering into delightful comedy chunks."
The star of Death in Paradise (BBC One), Father Ted (Channel 4) and My Hero (BBC One), Ardal O'Hanlon is one of the British Isles' leading stand-up comedians and actors. He has received British Comedy Award, BAFTA and Olivier nominations, toured worldwide with his acclaimed stand-up shows - and appeared in numerous TV shows from Dr. Who (BBC One) and Skins (E4) to Live at the Apollo (BBC Two). 
Tickets for The Showing Off Must Go On 2019 UK tour are on sale on Thursday 25th October 2018 here.
Click here for full dates.