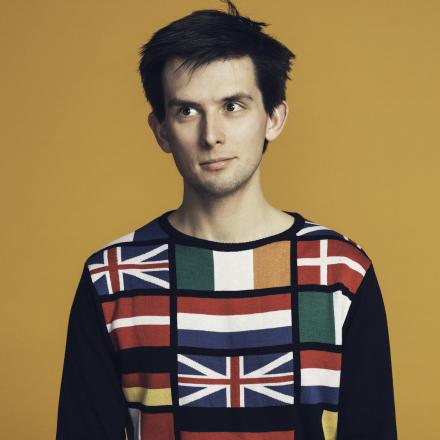 Following on from two consecutive Edinburgh Comedy Award nominations for Best Show for his thrilling and genre-defining shows Lance and Maestro, Kieran Hodgson returned to the Edinburgh Fringe in 2018 to claim his third nomination. He is now taking his latest hit show on tour
'75 was undeniably one of this year's buzziest and best reviewed shows and was also the second performer to sell out his entire run by the end of the first week of the festival and then proceeded to sell out seven extra shows in the Pleasance Forth and Beneath. 
Exploring how politics can rip apart even the closest and most loving of relationships, '75 is the hilarious story of Kieran's attempts to reunite with his mother after being driven apart by the shadow of Brexit. Kieran follows up two fantastically successful shows about his beloved passions (cycling and music) with one which bravely shines a light on the trickiest question of our time: 'Europe?' 
Kieran Hodgson has always been a history know-it-all: when struggling to make conversation he will readily resort to a game of 'let's name all the Prime Ministers in reverse order,' much to the intense dislike of his friends, family, and husband. But when the 2016 Referendum tore apart the closest of familial relationships between mother and son, Kieran believed he could give his obsession with history books a new purpose, turning to them in order to make sense of how we got here and heal the wound.  
The show interweaves a tale of two intimate, personal relationships and a personal quest for understanding with one of epic European history, coming up against both in a brand-new, hysterically funny and moving tour de force from this award-winning comic. Expect a story of passion and betrayal as Kieran overestimates his intellectual abilities and fills his show with somehow-funny descriptions of voting systems and a rogue's gallery of historical figures that he delights in bringing back to life: awkward war hero (and perhaps questionable Prime Minister) Ted Heath, milk-snatching pioneer Margaret Thatcher, and Huddersfield's most famous son (after Kieran), Harold Wilson. It's like 'Hamilton' if 'Hamilton' was about Wilson and had no money or songs. 
Kieran's last show, Maestro, was nominated for the Edinburgh Comedy Award 2016, the 2017 Chortle Award for Best Show and was programmed at the Melbourne International Comedy Festival after a sell-out UK national tour and three sold-out runs at the Soho Theatre Downstairs. Following the success of Maestro, Kieran was the only comedian nominated for the Times Breakthrough Award at the South Bank Sky Arts Awards.
While developing '75, Kieran became new series regular Gordon in series 3 of hit BBC2 sitcom Two Doors Down alongside Arabella Weir and Doon Mackichan, which had its highest ratings yet, and is currently filming series 4 in Glasgow. Kieran's Channel Four Blap, God's Own County, was released this summer which he wrote and starred in alongside Monica Dolan and Jim Howick. It was developed with Jonny Sweet and Simon Bird's production company Guilty Party Pictures and produced by TV Burp's Spencer Millman.
Recent film and television roles include: as a regular on BBC3/BBC One's Bafta-nominated Pls Like 2, as a regular on BBC3's comedy series Famalam, Dave's Unspun With Matt Forde, Netflix's Lovesick, as Malcolm McLaren in Sky Arts' Urban Myths: The Sex Pistols vs Bill Grundy and reprising his role as Pliny the Younger in Radio 4's How To Survive The Roman Empire by Pliny And Me.
Kieran wrote and performed his BBC Radio 4 series Kieran Hodgson's Earworms inspired by Maestro. He has also appeared in BBC 2's single drama We're Doomed! The Dad's Army Story alongside John Sessions, Kevin Bishop and Sally Phillips, BBC 2's Ben Elton–penned Shakespearean sitcom Upstart Crow alongside David Mitchell, Harry Enfield and Spencer Jones, as well as Sky's Mr Swallow's Valentine with Nick Mohammed, BBC's Jonathan Creek and Count Arthur Strong as well as E4's Drifters Series 3 and Siblings Series 2 and the box ofice smash Alan Partridge: Alpha Papa. 
He currently has his own scripted projects in development with Objective Fiction/Sky One, Guilty Party Pictures/C4 and Merman Films/C4.
Book here.
Kieran Hodgson Tour Dates: 
7th Jan - 2nd Feb Soho Theatre. Book here.
8th March 2019 Lancaster Arts  
https://www.lancasterarts.org/   / 01524 594151
9th March 2019 Bristol 1532 Performing Arts Centre
www.1532bristol.co.uk / 0117 259 1532
16th March 2019 Salford The Lowry
www.thelowry.com / 0843 208 6000
22nd March 2017 Reading South Street
www.readingarts.com/south-street / 0118 960 6060
23rd March 2019 Cambridge Junction
www.junction.co.uk / 01223 511511
27th March 2019 Leamington Royal Spa Centre
www.warwickdc.gov.uk/royalspacentre / 01926 334418
29th March 2019 Oxford The North Wall
www.thenorthwall.com / 01865 319450
4th April 2019 York Basement
http://www.thebasementyork.co.uk/ / 0871 902 5747 
6th April 2019 Leeds Sheaf Street
www.sheafst.com / 0113 245 9487
10th April 2019 Peterborough Key Theatre
https://vivacity.org/vivacity-venues/the-key-theatre/ / 01733 207239
11th April 2019 Brighton Komedia
https://www.komedia.co.uk/brighton/ / 0845 293 8480
13th April 2019 Bath Rondo Theatre
www.rondotheatre.co.uk / 0333 666 3366 
15th April 2019 Newcastle The Stand
www.thestand.co.uk / 0191 300 9700
16th April 2019 Edinburgh The Stand
www.thestand.co.uk / 0131 558 7272
17th April 2019 Glasgow The Stand
www.thestand.co.uk / 0141 212 3389
26th April 2019 Kendal Brewery Arts
www.breweryarts.co.uk / 01539 725133
23rd May 2019 Aldershot West End Centre
www.westendcentre.co.uk / 01252 330040
28th May 2019 London Southbank Centre
www.southbankcentre.co.uk / 020 3879 9555