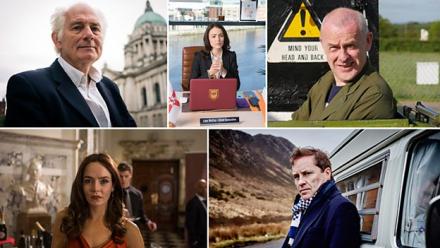 New content in these genres has been made partly possible through an additional BBC investment of £11million over three years into BBC Northern Ireland content and services. Part of this significant investment provides an increase in commissioning spend on local television content - meaning more drama, comedy and factual programmes that are relevant to audiences in Northern Ireland.
Peter Johnston says: "It's been an eventful year for the BBC in Northern Ireland. The network drama Death And Nightingales with Jamie Dornan has just shot here and, of course, the fifth series of Jed Mercurio's Line Of Duty is currently filming. These alongside the Biggest Weekend, the BBC Radio 2 Folk Awards and the BBC One drama Come Home all showcase Northern Ireland to UK-wide audiences, which is incredibly important. It's also vital that BBC Northern Ireland continues in its everyday mission to reflect life here to our local audiences.
"This investment into commissioning spend has enabled us to broaden the ambition and to deepen our public purpose to inform, educate and entertain our audiences. As well as factual content such as Top Table and True North, we've been able to invest in a new series of the timely comedy series Soft Border Patrol and to help develop new drama talent in front of and behind the camera through our pilot New Perspectives initiative.
"We are committed to bringing audiences the best content and we do that by investing in independent production companies, programme makers and our creative partners within the industry."
In entertainment, Colin Murphy looks back anxiously on a world he was once told to worry about in the new series Colin Murphy's Panic Room. In comedy, The Soft Border Patrol officers start a new shift as the mockumentary returns for a second series with some unexpected cameos. Ma, Da, Uncle Andy and company return for special editions of audience favourite Give My Head Peace, while Tim McGarry, Colin Murphy, Jake O'Kane, Neil Delamere and guests continue pointing the finger with a new series of The Blame Game.
BBC One Northern Ireland factual series and documentaries will also have more breadth than ever before with a range of content covering everything from troubled young people and missing persons to horse racing, historical monuments and the beauty of our landscape.
In the documentary Showbands And Me: Ardal O'Hanlon sees the comedian (Death In Paradise, Father Ted) examine the history and popularity of Irish showbands. And as the 148th Open takes place at Royal Portrush in the summer of 2019, The Wild Man Of Golf spends time with Bangor-born personality David Feherty who swapped his golf clubs for a life on stage and in front of the cameras.
Significant projects marking the 50th anniversary of the start of the Troubles will be announced in 2019.
New Perspectives
In drama, two one-off dramas were announced as part of BBC NI's pilot New Perspectives initiative, aimed at finding and developing new drama writing, production and acting talent.
Written by new writer David Allen and directed by Declan Recks (The Truth Commissioner) Counsel tells the story of Olivia Harley, played by Valene Kane (The Fall, Rogue One: A Star Wars Story), a female barrister who complicates her professional and personal life when she meets a new client, and must balance this with supporting her high-profile husband amid a job promotion and an impending scandal.
Ups And Downs, written and directed by Eoin Cleland (Incoming Call) and produced by Kevin Jackson, (Zoo, Behold The Lamb), stars Susan Lynch (Ready Player One, Waking Ned, Killing Eve) as the mother to a 22 year-old son with Down's syndrome and 18 year-old daughter who head off on an entertaining road trip to Belfast to attend a highly anticipated gig without her permission.
Counsel and Ups And Downs are being produced with support from Northern Ireland Screen.
Soft Border Patrol
A new five-part series of the Brexit mockumentary Soft Border Patrol follows the antics of the teams patrolling the often twisting highways and byways of the border on push bike and by car, as they try to help commuters cross the border smoothly and swiftly, if not always successfully.
Made by the Glasgow-based Comedy Unit, most of the dialogue in the series is largely improvised and performed by a cast, including Karen Hassan, who plays SBP CEO Lisa McCoy, and Neil Delamere as Niall Sweeney, Head of Virtual Border. Also making cameo appearances are BBC Northern Ireland's favourite weather man Barra Best, broadcaster and singer 'Uncle Hugo' Duncan and country star Lisa McHugh.
Colin Murphy's Panic Room
In a new three-part series, comedian Colin Murphy takes viewers on a trip back in time, only to realise we really had nothing to worry about.
Colin harks back to the good old days when we didn't know we had it so good, using the benefit of hindsight and the smugness of having survived it all! Looking back now to the 60s, 70s and 80s, Colin realises he wasted a lot of time worrying about stuff that he really shouldn't have, not to mention the hundreds of hours misspent by the strategists in Government, Military and the Civil Defence... and don't get him started on those conspiracy theorists!
From a fear of robots taking over the world to Cold War paranoia and the 'Dad's Army-esque' preparations for attack; and the realisation that the End Of The World has always been nigh, viewers will be transported to an era of daftness when our fears were so much simpler.
Showbands And Me: Ardal O'Hanlon
The showband was a uniquely Irish phenomenon. Ask someone from Ireland who is over 65 and they'll regale you with tales of the dancehalls and showbands. It was a movement that saw thousands of young people travel up and down the country in the late 50s, 60s and early 70s to the 'Dancehalls of Romance'. There was no alcohol, just hours of music, entertainment and dancing from showbands like The Royal Showband, The Miami Showband and Big Tom And The Mainliners. And there were plenty of heartthrobs like Dickie Rock, Joe Dolan and Brendan Bowyer. So who were the showbands and how did the come about? How did they operate and how did they keep Ireland in its thrall for so many years?
In this BBC Northern Ireland and BBC Four film, comedian Ardal O'Hanlon takes a trip down memory lane in the hope of getting to the bottom of this phenomenon - while having a lot of fun along the way. Ardal, who grew up on the border, meets some of the major players in the showband scene who would have regularly crossed from north to south and back. He discovers the landscape they operated in and reveals that although dead now in Ireland, the showband scene remains alive and well on The Las Vegas Strip in the USA.
Dan Cruickshank's Monuments Of Remembrance
In this documentary, a co-production for BBC Four and BBC Northern Ireland to mark the centenary of the end of World War One, Dan Cruickshank reveals the extraordinary story behind the creation of the Commonwealth War Graves Commission - and the design and building of the iconic war memorials following the conflict.
Towards the end of the First World War, Britain was a traumatised society, faced with the challenge of making a lasting tribute to those who had died in unprecedented numbers. Over a million lives lost from across the Empire - soldiers of different rank, race and religion, some who could be identified, many who could not. What followed was an extraordinary building project, the sheer scale of which the writer Rudyard Kipling described as "work greater than the Pharaohs".
Dan travels to the Western Front, visiting cemeteries at Forceville and Serre Road No.2 in northern France to examine the architectural and horticultural decisions made in the early days of the Imperial War Graves Commission to honour and remember the dead.
Pictured clockwise: Dan Cruickshank, Karen Hassan, Colin Murphy, Ardal O'Hanlon and Valene Kane.