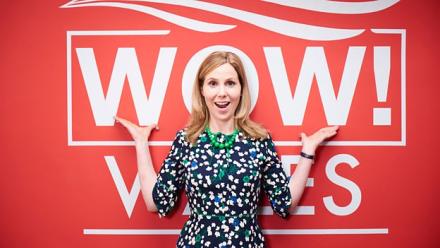 Tourist Trap is a brand new mockumentary starring acclaimed comedy actress Sally Phillips. Known for her performances in Bridget Jones's Diary, Miranda and Smack the Pony, she's joined by some of the most established talents in Welsh comedy. Written by Sian Harries, Tudur Owen and Gareth Gwynn, the six part series is set around a fictional tourist board for Wales and stars Elis James, Mike Bubbins, Steve Speirs and many more familiar faces.
The best in Welsh stand-up share the stage with big comedy names, and new faces on the scene in Stand Up For BBC Wales. Presented by Anglesey's Kiri Pritchard-MacLean, Mike Bubbins, Tudur Owen and Lloyd Langford are joined by The Mash Report's Nish Kumar, Mock The Week's Angela Barnes and Felicity Ward, fresh from the Edinburgh Festival.
Also part of the season are two one-off programmes. Bob Pugh (Game of Thrones) and Steve Speirs (Stella) come together for a one-off special of The Tuckers, written by Speirs. The sitcom, set in the south Wales valleys, tells the story of a family of chancers, low on cash but high on spirit - determined to survive through any means necessary.
In My Skin - co-commissioned with BBC Three - stars Rhodri Meilir (Hidden, Hinterland, Pride, My Family) and Jo Hartley (This Is England) and follows the double life of 16 year old Bethan Gwyndaf, and the reality of her home life - which is very different to the impression she gives her school friends.
Written by five Welsh writers, Outsiders is a new comedy drama with songs starring actor and singer Noel Sullivan (Ordinary Lies, Hear'Say) as Tom, who thinks it's time his youth group got in touch with their inner selves, outside. But when group therapy and organised fun collide, bad things happen.
Halfway was commissioned as part of BBC Wales' Find Me Funny initiative. Aimed at those from or living in Wales, the scheme was launched in November 2017 to find the next generation of comedy scriptwriters. Written by Sion Edwards from Dolgellau and set in a burger van on the A470 - where no-one often stops but there's always plenty to talk about.
Paul Forde, Commissioning Executive for Comedy Development at BBC Wales says: "This season showcases the range of comedy talent that currently exists in Wales - from brilliant comedy performers through to comedy writers, all of whom are absolutely at the top of their game."
As part of Festival of Funny, BBC Radio Wales has a special week of comedy programmes in its 6.30pm slot and will feature a mix of sitcoms and stand-up. Ankle Tag is a four part sitcom by Gareth Gwynn and Benjamin Partridge about a fraudster dad who is released on parole and cons his way into living with his son. Home is an intergenerational sitcom by Robin Morgan, set in a nursing home. And there will be a special comedy edition of The Review Show.