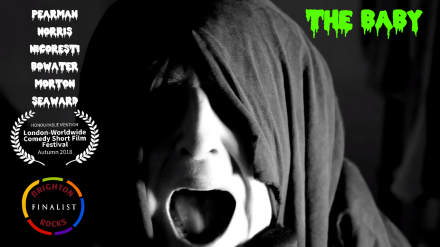 Watch this short film entitled The Baby written, conceived by and starring comedians Joz Norris & Lucy Pearman.
A tiny new-born child makes demands on a mysterious woman in this black and white comic chiller which we think has a hint of David Lynch's Eraserhead about it.
The cast also features Eleanor Morton and Will Seaward.
It was directed & edited by Sam Nicoresti and lights & sound were by Lottie Bowater.
Norris and Pearman wrote it last year imagining it might be a 30-second sketch about an evil baby tormenting its mother, but then they became more ambitious, as Norris explains: "When we sat down to flesh it out, the images we were putting on paper were so odd and nightmarish and the influences we wanted to homage (both 1920s German expressionist cinema and an ASMR Youtube video of a man eating crisps) so diverse and strange that we could sense it was turning into something more odd than we initially imagined. We got Sam on board as director and editor, in which capacity he managed to conjure up images and shadows and strange ideas that so perfectly brought to life the mood-board of ideas we'd put together in place of a script; and Lottie to help with lights on the shoot and to compose the incredible score."
"We only really knew what it was we'd made when it finally came together, at which point we knew it wasn't a clickbait-y, share-friendly sketch we'd made, but something more arthouse and strange and difficult to pin down, so we took it round film festivals for a year and got some lovely feedback while trying to establish ourselves as a filmmaking team, including being a Finalist in the Experimental and Arthouse Category at Brighton Rocks Film Festival, and receiving an Honourable Mention from the London-Worldwide Comedy Short Film Festival. Now its tour of the festivals is nearly over we felt it was time to release it into the world."