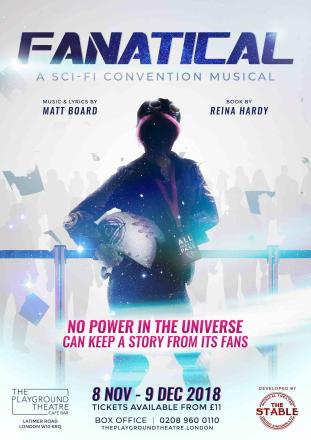 Comedian Stephen Frost (Whose Line Is It Anyway?,  Blackadder, Have I Got News For You, Mr Bean) and Suanne Braun (Stargate, Red Dwarf, Mamma Mia, Cabaret) are the stars of Matt Board and Reina Hardy's Fanatical, which will receive its world premiere at The Playground Theatre this November. 
In a distant Galaxy - the ragtag misfit crew of cargo ship Angel 8 are under the command of fearless pilot Iris Aucht. Meanwhile…at a conference centre, somewhere in England – a ragtag misfit collection of 1,000 fans gather from all across the UK for Eight Con One, the first ever official convention of the cult TV show Angel 8. 

Angel 8 started as a comic created by reclusive British Sci-fi author Scott Furnish. Its first TV outing ended on a shocking cliffhanger. With eager anticipation at the promise of a second series, these enthusiastic devotees have come together to celebrate their beloved series and to meet Scott face-to-face and hear his keynote speech.

Fanatical tells the suspenseful, comic, and affecting tale about being true to oneself, finding love against the odds, and snatching triumph from the jaws of disaster - proving that no power in the universe can keep a story from its fans.
The cast also includes Sophie Powles (Emmerdale, Britannia High, Holby City, Rehearsal for Murder national tour), Tim Rogers (Hal Prince's Showboat, Pirates Of Penzance - The Savoy Theatre, national tour of Jesus Christ Superstar) actress and theatre vlogger Amy Lovatt,  Amber Sylvia Edwards (20th Century Boy),  Eddy Payne (Two Noble Kinsmen Guildford Shakespeare Company, Baby Come Back Leicester Square Theatre), and the songwriter and actor Theo Crosby.
Matt Board is a composer, lyricist and musical book writer. He co-wrote the book, music and lyrics to Austentatious, which has played in London, New York, Philadelphia and Calgary. He was a finalist in the Search For A Twitter Composer competition and Stiles and Drewe Best New Song Award and was commissioned by Comedy Central to write Friends: The Opera for a gala performance in London. Matt's other work includes Two's A Crowd, which featured in the Perfect Pitch New Musicals Festival, music and additional lyrics for the short filmThe Dance To War (Catsnake Films) and music for the New York premiere of Reina Hardy's play A Map To Somewhere Else.
Reina Hardy is a playwright. Her plays have been seen across America, including The Rorschach Theatre in DC and the Vortex in Austin. She's a Michener Fellow, winner of the 2014 KCACTF TYA Prize, finalist for the Terrence McNally Prize and the recipient of an Interact 20/20 Commission.
  
Fanatical is part of The Playground Theatre's Autumn season which also includes the world premiere of James Purdy's The Paradise Circus (October 8  to November 3) and Mary Rodgers' and Marshall Barer's Once Upon a Mattress directed by Alex Pearson and Grace Wessels (December 18 to January 19).
 
FANATICAL

The Playground Theatre, 8 Latimer Rd, London, W10 6RQ
 
November 8 to December 9
Book online at http://www.theplaygroundtheatre.london <http://www.theplaygroundtheatre.london> 
020 8960 0110