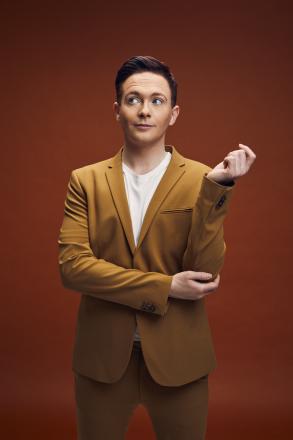 Following a month at the Edinburgh Festival Fringe, Stephen Bailey is hitting the road between February and April 2019 armed with his super sharp wit and stories about his roots and finding out who he is! Tickets for 'Our Kid' are on sale from Friday 14th September here.  
Since January he has toured the UK with his first critically acclaimed tour 'Can't Think Straight', performed three nights at the prestigious Soho Theatre in London plus supported Katherine Ryan on her recent sold-out UK tour.  His friendly brand of gossipy humour has made him one of the UK's most exciting up-and-coming acts in comedy at the moment.
Stephen's comedy and charming personality have propelled him to starring in a number of varied TV projects. Most recently, Stephen made his presenting debut as host of 5star's newest reality show'Celebs On The Farm' which delighted audiences when it aired in summer 2018. He can also be seen weekly as the resident agony uncle on ITV1's 'Zoe Ball On Saturday & Sunday'. 
Adding to his extensive back catalogue of TV and radio work, Stephen has also made appearances on Channel 5's 'Celebrity Big Brother's Bit on the Side', Comedy Central's 'Live at The Comedy Store',  ITV2's 'Safeword', 'CelebAbility' and ITV's Weekend with Aled Jones. He has also starred on ITV2's 'The Great Xmas Rant', ITVBe's 'Kate's Wardrobe Secrets', W's 'Celebrity Advice Bureau' & Channel 5's 'It's Not Me, It's You'.
Stephen will be in series tw of Comedy Central's 'Roast Battle' airing this October.
Stephen has also guest-hosted the Sunday Takeover on Virgin Radio, the Breakfast show on GAYDIO, been featured on The Arts Show with Jonathan Ross on BBC Radio 2 and was named one of Attitude Magazine's Top 100 Bachelors of the Year in 2017.  As a vocal supporter of LGBT rights, Stephen regularly contributes articles to Attitude magazine, Huff Post UK and Gay Star News.
** Photographer: Duncan Elliott
STEPHEN BAILEY – OUR KID
2019 TOUR DATES 
Thursday, 7th February Eastleigh, The Point023 8065 2333 HYPERLINK "http://www.thepointeastleigh.co.uk" www.thepointeastleigh.co.uk 
Tuesday, 12th February Newcastle, The Stand 0191 300 9700 HYPERLINK "http://www.thestand.co.uk" www.thestand.co.uk 
Thursday, 14th February Shrewsbury, Theatre Severn Studio 01743 281 281 HYPERLINK "http://www.theatresevern.co.uk" www.theatresevern.co.uk 
Friday, 15th February Swindon, Arts Centre 01793 524 481 HYPERLINK "http://www.swindontheatres.co.uk" www.swindontheatres.co.uk 
Saturday, 16th February Hemel Hempstead, Old Town Hall 01442 228 091 HYPERLINK "http://www.oldtownhall.co.uk" www.oldtownhall.co.uk 
Wednesday, 20th February Bury, The Met 0161 761 2216 HYPERLINK "http://www.themet.org.uk" www.themet.org.uk 
Friday, 22nd February Southport, The Atkinson 01704 533 333 HYPERLINK "http://www.theatkinson.co.uk" www.theatkinson.co.uk 
Saturday, 23rd February Derby, The Guildhall 01332 255 800 HYPERLINK "http://www.derbylive.co.uk" www.derbylive.co.uk 
Sunday, 24th February Cambridge, Junction 01223 511 511 HYPERLINK "http://www.junction.co.uk" www.junction.co.uk 
Thursday, 28th February Milton Keynes, The Stables (Studio) 01908 280 800 HYPERLINK "http://www.stables.org" www.stables.org 
Friday, 1st March Bath, Rondo Theatre 0333 666 3366 HYPERLINK "http://www.rondotheatre.co.uk" www.rondotheatre.co.uk 
Saturday, 2nd MarchBrighton, Komedia 01273 647 100 HYPERLINK "http://www.komedia.co.uk" www.komedia.co.uk 
Sunday, 3rd March Glasgow, The Stand 0141 212 3389 HYPERLINK "http://www.thestand.co.uk" www.thestand.co.uk
Tuesday, 5th March Edinburgh, The Stand 0131 558 7272 HYPERLINK "http://www.thestand.co.uk" www.thestand.co.uk
Friday, 8th MarchSwansea, Grand Theatre 01792 475 715 HYPERLINK "http://www.swansea.gov.uk" www.swansea.gov.uk 
Sunday, 10th March Southsea, Wedgwood Rooms 023 9286 3911 HYPERLINK "http://www.wedgewood-rooms.co.uk" www.wedgewood-rooms.co.uk 
Wednesday, 13th March Canterbury, Marlowe Theatre 01227 787 787 HYPERLINK "http://www.marlowetheatre.com" www.marlowetheatre.com 
Thursday, 14th MarchAndover, The Lights 01264 368 368 HYPERLINK "http://www.thelights.org.uk" www.thelights.org.uk 
Saturday, 16th March Lincoln, Engine Shed 0871 220 0260 HYPERLINK "http://www.engineshed.co.uk" www.engineshed.co.uk 
Wednesday, 20th March Solihull, The Core Theatre 0121 704 6962 HYPERLINK "http://www.thecoretheatresolihull.co.uk" www.thecoretheatresolihull.co.uk 
Thursday, 21st March Guildford, G Live Studio 01483 369 350 HYPERLINK "http://www.glive.co.uk" www.glive.co.uk 
Friday, 22nd March Bristol, Hen and Chicken HYPERLINK "http://www.thecomedybox.co.uk" www.thecomedybox.co.uk 
Saturday, 23rd March Leamington, Spa Pavilion 01926 334 418  HYPERLINK "http://www.warwickdc.gov.uk/royalspacentre" www.warwickdc.gov.uk/royalspacentre 
Thursday, 28th MarchCarlisle, Old Fire Station 01228 598 596 HYPERLINK "http://www.oldfirestation.carlisle.city" www.oldfirestation.carlisle.city 
Friday, 29th MarchBrighton, Komedia 01273 647 100 HYPERLINK "http://www.komedia.co.uk" www.komedia.co.uk 
Saturday, 30th March Maidenhead, Norden Farm 01628 788 997HYPERLINK "https://norden.farm/"www.norden.farm 
Saturday, 6th April Salford, The Lowry 0843 208 6000 HYPERLINK "http://www.thelowry.com" www.thelowry.com 
Picture: Duncan Elliott