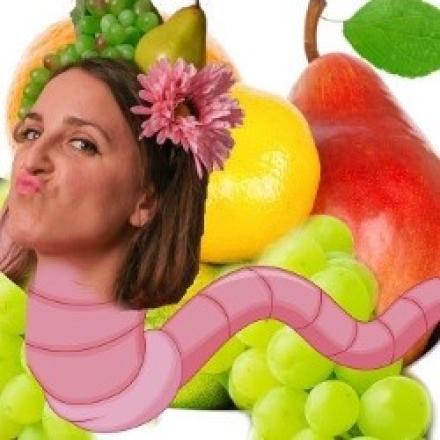 Lucy Pearman picked up an Edinburgh Comedy Award Best Newcomer nomination last year with the solo vegetable-based historical comedy Maid of Cabbage. Her latest show also has an edible theme. In Fruit Loops absurdist Pearman starts the show dressed as a bunch of grapes and later plays other characters including the lead role as a worm that heads to the Big Apple.
It sounds like a kids' show and at times feels like one too, albeit a kids' show written by Salvador Dali. Logic is knocked off its axis. The worm is sometimes small, sometimes large. And, of course, it talks. There is a lot of running behind a curtain for costume changes. In fact the curtain provides the funniest moment as Pearman, in worm mode, attempts to wriggle across the top of it while wearing a shoe that won't stay on. Well, worms aren't used to wearing shoes, so you probably can't get them in their size.
There are nice characters and nasty characters not to be trusted and the audience becomes part of the cast too as Pearman enlists their help onstage. She also plays a potato in search of a jacket. But don't worry, it's not scary or humiliating crowd participation, everything has warmth and charm as well as silliness. Even when Pearman is wearing an oversized moustache you can see the hint of a smile behind it. 
Until August 27. Info here.
Read more Edinburgh Fringe reviews here.
****