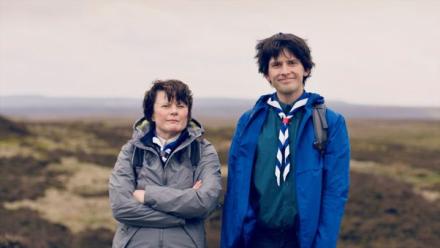 Channel 4's newest Blap, God's Own County, comes to All 4 today.
Welcome to Yorkshire: Lonely Planet's Official 3rd Best Region In The World (2013). Acclaimed comedian Kieran Hodgson leads us on a nostalgic 90s trip to his homeland. We journey to the beautiful, desolate moors and see our 14 year old hero attempt to hike Black Hill, the highest point in West Yorkshire. When young Kieran has to choose between loyalty to terrifying scout leader Jackie (Monica Dolan – Hang Ups, W1A) or cool new leader Jamie (Jim Howick – Loaded, Peep Show), a simple walk will quickly become a lesson in dedication, danger and discontinued Dream chocolate bars.
This Blap is written by and stars Kieran Hodgson, who has recently starred in his "ravishingly entertaining" (Times) show'75 at the Edinburgh Fringe Festival, described as "delicious perfectionism… puts most other shows to shame" (Telegraph) and "rich, thoughtful but belly-laugh stuff" (Scotsman). God's Own County was produced by Guilty Party Pictures.
Fiona McDermott, Head of Comedy at Channel 4, said, "Kieran is a wonderfully talented writer-performer and we're thrilled to have him join our illustrious ranks of Blap creators. This brilliantly crafted comedy short is a fine example of how innovative, varied and hilarious the format can be, and Blaps are the perfect place for exciting talent like Kieran to try out new ideas."
Spencer Millman, producer at Guilty Party Pictures, said, "Spending the week filming with Kieran where he grew up was an absolute joy. His affection for his home county is abundantly clear in his writing and vision in this warm, wise and hilarious Blap - hopefully the first of many brilliantly funny Yorkshire tales."
Kieran Hodgson said, "God's Own County is my attempt at a (very brief) love-letter to Yorkshire. We had three fantastic days striding about on the Moors and I was overjoyed to do so in the company of the amazing Monica Dolan and Jim Howick. The blap is a simple story, of a teenage version of me going up the biggest moor near my house, Black Hill. It's a small but significant rite of passage that gives me the chance, as the Narrator, to talk a bit about the role the Moors play in Yorkshire life and to stare out at various bleak horizons like I'm in a Brontë adaptation. With any luck, future episodes would explore various aspects of life in Yorkshire, fuelling Yorkshire people's justified perception that they live in the best place on Earth."
The Blap is available to watch today: https://www.youtube.com/watch?v=O90SjBBN0Hs (opens in a new window)