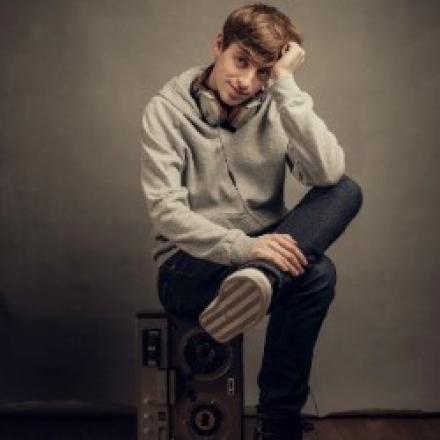 Alex Edelman has been awarded a Herald Angel Award for his new show, Just For Us.
After receiving a Barry Award nomination in Australia, Just for Us comes to the Pleasance after Alex's two-year break from the Edinburgh Fringe. The show ricochets from Edelman's ADHD, a surprising encounter with Prince William at the BAFTAs, his newly-minted Olympian brother, what being "brave" means in this political climate, and a gorilla that can do sign language.
But at its centre is the astonishing and unfortunately timely encounter when, after a strong anti-Semitic strain of online abuse was directed at Edelman in January 2018, he decided to covertly attend a meeting of those same anti-Semites. The result was an explosive confrontation.
In her five star review for The Herald, Gayle Anderson wrote: "It's a confident, carefully-crafted and brilliantly delivered set. If this was music it would definitely be jazz. Rhythmic and hip, you're never sure where it's taking you but you know you'll like it."
Director of Pleasance, Anthony Alderson comments: "This morning saw another amazing Pleasance show honoured with a Herald Angel Award. Edinburgh Comedy Award winner, Alex Edelman is in Edinburgh garnering much attention and acclaim with his third solo show. This fantastic young comedian is at the top of his game and we couldn't be happier that The Herald have recognised him in this exciting way."
Since their inception in 1996, The Herald Angel Awards have been an integral part of the Edinburgh Festival scene, celebrating and rewarding the diverse range of talent from the various festivals including the Edinburgh International Festival, the Edinburgh Festival Fringe, the Jazz & Blues Festival and the Edinburgh International Book Festival.
Alex Edelman's debut, Millennial, won the Edinburgh Comedy Award for Best Newcomer - the first show by an American to do in more than fifteen years. The follow-up, Everything Handed to You, sold out its entire Edinburgh run and was the second best reviewed of any comedy show at the Festival. It was also filmed in its entirety for a special called Live from the BBC, which is currently available on Netflix.
Alex Edelman: Just for Us is at the Cabaret Bar, Pleasance Courtyard until Sunday 26 August at 8pm. Tickets here.