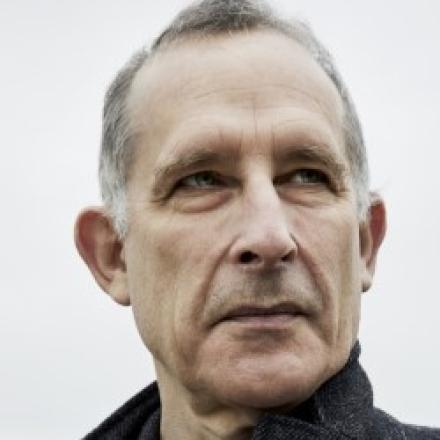 Imagine a world where a mellowed middle-aged North London anarchist is secretly guiding world events.
This is the world Nick Revell creates in BrokenDreamCatcher, putting himself at the centre of a benign global conspiracy.
The goal of our diffident superhero is to improve the mental health of the world and to bring LGBT rights to Putin's Russia – and in Revell's richly imagined parallel universe such things are possible.
Revell tells his story with a hypnotic rhythm, his long arms swinging to the beat of his tale, his voice persuasive and warm.
His language is poetic and precise, peppered with comic satirical asides and full of intriguing markers - which hint at the incredible tale which is about to unfold.
Revell's yarn is grounded in current political and economic reality and at the beginning you can almost believe his superhero tale might have some elements of truth. Perhaps Gwyneth Paltrow really did come into his local pub in Islington. Perhaps Revell really did meet Vladimir Putin when Revell was a leftie traveller in Eastern Europe and Putin was a low ranking KGB agent.
But little by little you find your credibility stretched and stretched again – until you realise you are in a deeply improbably realm, where Gwyneth Paltrow is an expert on rugby league, Angela Merkel is being guided by secret messages hidden in The Archers and Vladimir Putin's buttocks have left their host body and secretly joined the campaign for gay rights.
Before you know it you are deep in the Russian steppes, high on hallucinogenic reindeer urine and watching the Russian president wrestle with a bear.
The action culminates in present day London, with a kind of zombie apocalypse brought on by a faulty dream catcher. Revell the superhero teams up with Gwyneth Paltrow to battle the very real nightmares of present day Londoners, before finally, neatly putting the mental health genie back in the bottle.
It's an engrossing and incredible tale, shot through with a deep engagement with global politics, human nature, tabloid gossip and psychogeography. It is destined to become a Radio Four series, but you can catch it live, here in Edinburgh, for a full-on 4D Nick Revell experience.  
Revel is a master storyteller with a powerful and original mind, whose parallel universe brings out some uncomfortable truths about the world we are living in. 
For a thoroughly entertaining hour he takes us to a far stranger world – but one which is also, bizarrely, much saner than the world we live in.
Until August 26. Tickets here.
Read more Edinburgh Fringe reviews here.
****