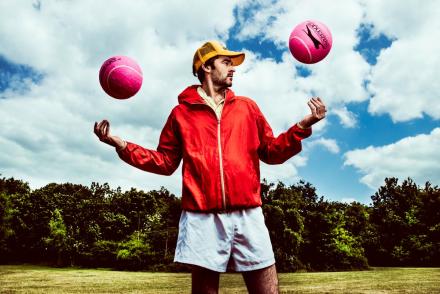 It's the sequel nobody asked for but they are getting it anyway. Three years ago Adam Riches delivered Coach Coach, the redemptive tale of Eric Coach, the gum-addicted US campus trainer of a team of no-hoper volfsball (it's a bit like basketball) players. And now he's back and if anything it is funnier than the first time round.
Coach Coach 2 dispenses with a lot of the plot complexities of the first outing, while adding topical political and feminist twists to the tale. Riches explains, in one of his spendidly postmodern asides, that most of the cast from the first one are dead. Which is handy as it makes this one feel tighter and makes the pace feel faster. Daniel Cook plays his sidekick Swish Swisherstein, Ben Target plays the principle (with a ball-shaped head) and Stevie Martin plays Eric's wife and also, holy Putin, the Russian trainer of the rival team that Coach's team has to face in the final life-or-death showdown.
In fact not only are they Russian but they are women. So there's also a knowing whiff of Ghostbusters reboot here alongside a whiff of Rocky IV, in which Rocky takes on Soviet brick shithouse Ivan Drago. Oh, and while we are at it the plot also nods in the direction of Back to The Future with a dash of time travel.
But never mind the homages, this is all about Riches' high energy testosterone-fuelled, machismo-satirising central performance, as he knocks his plucky volunteers coaxed out of the audience into shape. It's always a risk choosing members of the public to take centre stage but Riches is so good at this after all these years that he manages to pick the right people every time. Or if he picks the wrong person he always gets them to do the right thing. Well, almost always – his team captain tried to take a selfie mid-show, but Riches was quick off the mark to confiscate her phone.
The resulting action has a loose, lively feel with  plenty of running around the stage, which is set up as a volfsball court. The plot depends a couple of times on points being scored. If it doesn't happen quickly, as it didn't on this occasion, Riches has to frantically improvise. Rest assured he has a gag for every eventuality.
Coach Coach 2 is a silly, stupid, fist-pumping, flag-waving, feelgood show, with fine performances, excellent self-mocking gags and gloriously dumb moments. And what's even more impressive is it is just one of three shows Riches is doing this August in Edinburgh. You can also catch him in The Lone Dueller and The Guy Who. I haven't seen his other shows but I'd recommend all three on the basis that Riches is in them. And by the way, you absolutely don't have to have seen the first Coach Coach to enjoy the sequel. This is one of the rare occasions where the sequel is better than the original 
Until August 27 (but not every night). Tickets here.
Read more Edinburgh Fringe reviews here.
****