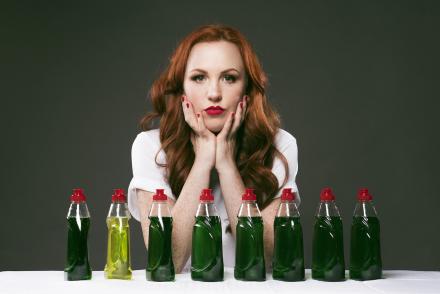 It's a fair bet that Irish comic Catherine Bohart is going to have a good Edinburgh. She has spent the last couple of years picking up plaudits in comedy compeitions. She was a finalist in the Leicester Mercury Comedy Festival Comedian Of The Year, the BBC New Comedy Awards and Funny Women and has written for Frankie Boyle's New World Order, The News Quiz, The Mash Report and Newsjack. Her new show Immaculate explores the small town in Ireland where she grew up, her identity as a bisexual woman, her struggles with OCD and much more. Most importantly though she's a natural, instinctive and very funny storyteller. Go see. 
Catherine Bohart's debut stand up show 'Immaculate' will be at the Pleasance Courtyard - Bunker 2 at 4.15pm for the month of August for tickets go to www.edfringe.com
Picture: Matt Crockett
1. What is the last thing you do before you go onstage (apart from check your flies and/or check your knickers aren't sticking out of your skirt and check for spinach between your teeth)?
I tend to set my watch, check my features are where I meant to paint them on my face, panic about not having a pension and then get on out there! 
2. What irritates you?
People who self-describe as feminists in their twitter bio. You don't get a cookie for fulfilling baseline expectations. 
3. What is the most dangerous thing you have ever done?
I'm a woman so…going outside?
4. What is the most stupid thing you have ever done?
Oh there are so many things! Is it bad that the first thing that came to mind was a list of people? EEK.  
On balance I think the stupidest thing I've ever done is take until I was almost 23 to realise I had OCD and wasn't just "a bit intense". For starters, I'm a lot intense. 
5. What has surprised you the most during your career in comedy?
How willing other comedians have been to help me. I've been met with so many encouraging and supportive people who've fostered my confidence and given me opportunities. I think there are far more good people in the comedy industry than there are bad and I've been really lucky. 
Interview continues here.