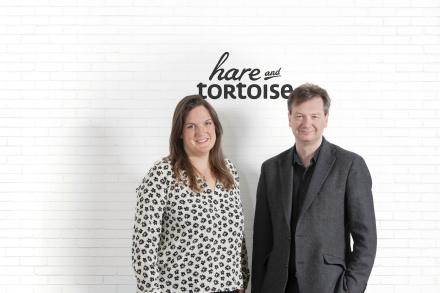 FremantleMedia has announced the launch of a new UK production label, Hare and Tortoise, led by Managing Director Jon Rolph and Creative Director Claire Nosworthy (pictured). It is already developing a number of new comedy projects and is working with comedians including Will Smith and  John Robertson - see below.
Hare and Tortoise will build on Jon and Claire's two decades of experience in comedy, entertainment, and factual to develop cross-genre projects for the UK and global markets.  The new label will bring together new and established writers, performers, producers and directors in surprising new creative partnerships, creating returnable series for both traditional broadcasters and new global platforms. 
As MD of FremantleMediaUK's Scripted Comedy Label Retort, which Hare and Tortoise replaces, Jon executive produced Retort's output including Count Arthur Strong, Chewing Gum, Birds of A Feather, The IT Crowd, The Rebel, The Casebook of Max and Ivan, and Henry IX.
Claire has most recently been an Executive Producer on a variety of high-profile Factual Entertainment series, including Britain's Best Home Cook, The Big Painting Challenge, The Taste and MasterChef, and a freelance Producer on a number of factual, entertainment and comedy series.  
Jon Rolph, said: "Claire has an enviable reputation as a creative Executive Producer on some of television's biggest formats, but we both started our TV careers making a panel game in Norwich.  She still has the same instinctive understanding of comedy and comedy talent as she had then. Together as Hare and Tortoise we'll be fleet of foot and robust of shell in the race to deliver the best new shows." 
Claire Nosworthy, said "Comedy is full of unlikely double acts, and as Hare and Tortoise we will be looking to foster many more great partnerships. Just as audiences do, we'll happily cross genre boundaries in search of great characters and great stories, mixing and matching scripted comedy, comedy entertainment, funny factual and light drama to create projects with humour at their heart. 
Cecile Frot-Coutaz, said: "Throughout the history of entertainment and business we have seen the power of a strong creative double act. The pairing of two people with very different personalities, who share the same values and ambitions and complement each other perfectly - this is exactly what we have with Jon and Claire collaborating again after so many years. We are excited to welcome Hare and Tortoise to the FremantleMedia family."
Hare and Tortoise has also just announced a First Look deal with one of the UK's most successful and sought-after comedy producers, Gill Isles (Car Share, Detectorists, Man Like Mobeen, Turn Up Charlie) to develop new comedy series from her base in Manchester.
Jon said: "Gill's unmatched passion for comedy and her consummate skill as a producer make her the most sought-after in the business. She's smart, hugely experienced and naturally funny, and Claire and I are delighted she's agreed to work with us again to develop brilliant new shows".   
Gill said: "Jon and Claire were the first comedy producers I ever worked with and I'm thrilled to be teaming up with them again. In the spirit of their new double act, I see myself as Schnorbitz to their Mike and Bernie Winters"
The new label is actively investing in rights, formats and scripts from new talent and established writers. Headline developments include:
Emmy-winning writer Will Smith (Veep, Damned) joins twisted visualist Richard Littler to adapt Littler's cult blog Welcome to Scarfolk. Scarfolk is a terrifyingly topical dystopian comedy drama that refracts the world as it is today through a horrifying kaleidoscope of 1970's culture and attitudes.

 

Acclaimed performer Jessica Thom, also known as Touretteshero, partners with writer Georgia Pritchett (Veep, The Thick of It) and regular Touretteshero collaborator Matthew Pountney to weave a scripted series out of Jess' extraordinary world.

 

Helmets, a new mainstream comedy co-created by former policeman Dan Clark-Neal (This Morning, Celebrity Big Brother) and the powerhouse comedy writing team Claire Downes, Stuart Lane and Ian Jarvis (In The Long Run, The Job Lot, Carters Get Rich)
The Dark Room, interactive comedy anti-game show and Edinburgh and Twitch favourite created by comedian John Robertson, gets a high-tech power-up for the screen.